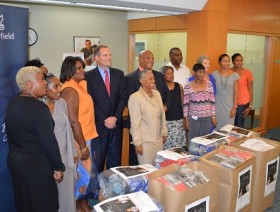 For the fourth consecutive year, The Bank of N.T. Butterfield & Son Limited and its employees have  hosted a back-to-school drive. This year, in addition to assisting primary and middle school students in need, the proceeds will also provide essential teaching supplies to support 23 schools.
18 primary schools and five middle schools will receive school supplies that include photocopying paper, Clorox wipes, hand sanitizer, markers, folders, pencils and rulers. Approximately 250 backpacks and lunchboxes were also donated allowing the school guidance counsellors to give to students, as needed, throughout the year.
In total, $17,500 was raised—$15,000 donated by Butterfield and $2,500 raised during a Butterfield employee denim day. In addition, many Bank employees pitched in to help collate and package the school supplies for delivery.
A.F. Smith and The Phoenix Stores also generously supported the drive, providing the school supplies at cost. In addition, supplies of crayons, pencils and rulers were donated from KBB and Government's Department of Works & Engineering, Waste Management division.
Michael Collins, Butterfield's Senior Executive Vice President, Bermuda said, "At Butterfield, we take seriously our commitment to supporting our community, particularly during challenging economic times. On behalf of the Bank's senior management team, I'd like to thank the Butterfield employees who organised and supported the back-to-school drive initiative."
Mr. Collins also said: "Many thanks also to A.F. Smith and the Phoenix Stores for providing the supplies at cost. The collaborative effort helped us achieve even greater results."
Minister of Education Dame Jennifer Smith said: "We are so gratified by the efforts of the Bank of Butterfield & Son Limited, AF Smith and the Phoenix Stores on behalf of our students. These are difficult times and these three organisations and their employees are playing their role as good corporate citizens. This assistance helps our students along the road to educational success."
Tim Smith, President & CEO of A.F. Smith said: "We are pleased to be able to support Butterfield's Back-to-School Drive by providing essential tools for the classroom and students."
George Grundmuller, President & CEO of the Phoenix Stores said: "This is a great initiative on behalf of Bermuda's young people and we are proud to be part of it. We consider any investment in our children as an investment in our future and well worth our efforts."
Read More About