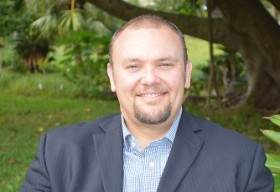 [Updated] David Petty has announced that he will run as an Independent in Constituency #20 Pembroke South West in the upcoming General Election.
Mr Petty, 43,  previously ran under the UBP's banner in the 1998 Election, and said he has a strong connection with Pembroke South West and he is hoping to put up a good fight.  "Most people assume the OBA will win in Pembroke South West, and my intention is to change their mind," said Mr Petty.
The incumbent Pembroke South West MP Louise Jackson [OBA] is retiring, and the OBA has not yet announced her replacement. Marcus Jones will stand for the PLP, while Independent Johnathan Starling will also contest the area.
Considered by many to be a safe seat for the Opposition, the constituency saw the largest margin of victory in the 2007 Election, with Mrs Jackson [under the UBP] earning 83% [711-145] of the vote vs the PLP's Laverne Furbert. In the 2003 Election, Mrs Jackson won with 81.83% of the vote against Neville Darrell.
To date at least eight Independent candidates have said they will run this year: Kim Swan in C#2 St. George's West, David Tavares in C#8 Smiths South, Phil Perinchief in C#18 Pembroke West Central, Erwin Adderley in C#19 Pembroke West, Johnathan Starling in C#20 Pembroke South West, Tillman Darrell in C#21 Pembroke South East, Charles Swan in C#31 Southampton West Central and Mr Petty in C#20.
Mr Petty intends to release his platform by the end of this week.
Update 6.25pm: A full video interview with Mr Petty is coming shortly. He said he is a former member of the OBA and was told their "roster was full" and said he is comfortable running as an Independent. He said if he were to win as an Independent, he would not cross the floor – rather put himself up for a bye-election. Asked about what he thinks are the biggest issues facing Bermuda, he cited the GDP and the debt.
Update 9.44pm: A video interview with Mr Petty is below
Read More About