[Update: Lynne Woolridge, Alexis Swan and Jeff Baron have been appointed as Government Senators. Video added]
There will be another swearing in of Senators at Government House at 11am this morning [Dec 28]. Thus far the Opposition Progressive Labour Party has appointed all three of their Senators [Diallo Rabain, Renee Ming and Marc Daniels], and the ruling One Bermuda Alliance has appointed two of their five Senators [Michael Fahy and Nalton Brangman]. It is not known at this time who will be appointed, however we will update as able.
Update 11.10am: Lynne Woolridge, Alexis Swan, and Jeff Baron have been appointed as Government Senators.
Mr Baron, a former police officer and UN peacekeeper, contested C#21 Pembroke South East in the recent general election gaining 40.75% of the vote.
Ms Swan ran in C#24 Warwick South East in the General Election, gaining 45.85% of the vote. Ms Woolridge is an executive at the Argus Group, and has been working behind the scenes with the One Bermuda Alliance.
L-R: Alexis Swan, Premier Cannonier, Governor George Fergusson,  Lynne Woolridge, Jeff Baron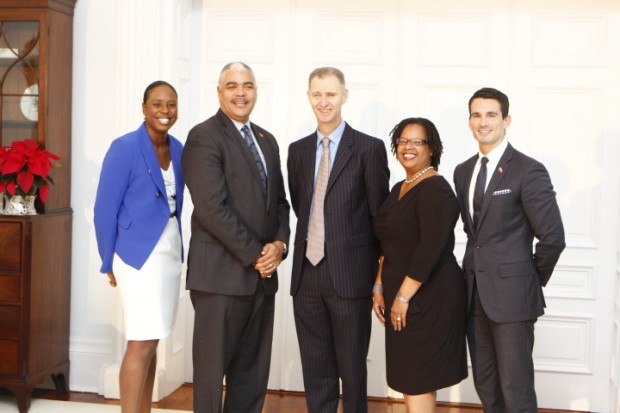 Update 12.37pm: Video of the Swearing In Ceremony below
Update 2.09pm: Senator Baron will have responsibility for Public Safety & Legal Affairs, Senator Swan will have responsibility for Environment, Planning, Community & Cultural Development and Senator Woolridge will have responsibility for Health, Seniors & Public Works.
Read More About