Students at Warwick Academy buried a time capsule this morning [Dec 14] full of letters, photos, videos and other mementos. The capsule served to help celebrate the school's 350th anniversary, and will be opened in 50 years time.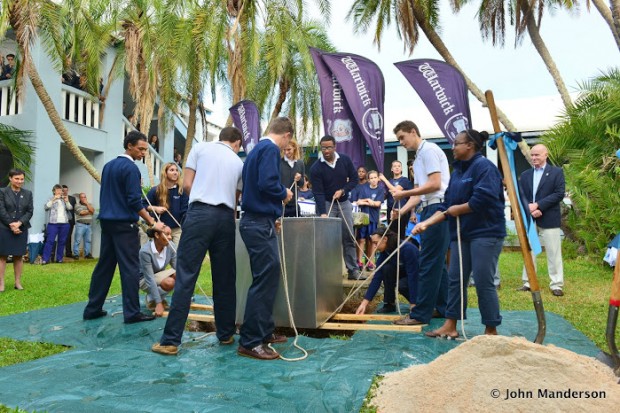 The morning started off with the "Warwick Bear" and a few students leaving Albouy's Point and making their way on foot to Warwick Academy.
The "Warwick Bear", who has run over 350km this year, arrived at the school just as they were lowering the time capsule. When the "Bear" — aka Ralph Woods — isn't out running, he serves as the school's geography teacher.
The time capsule was bought and donated to the school by The Walter Sharpe Family. Students filled boxes with items including letters, photos, and videos. The Primary students drew pictures, while some wrote letters to themselves that they can read in 50 years time.

-
Speaking at this morning's assembly, Director of Development Jane Vickers said the time capsule was bought by the Sharpe family and donated to the school with the idea that they fill it with all the things that happened during 2012, as they celebrate 350 years, and also use it as a fundraising vehicle to raise money for the school's Bursary fund.
"Our hope is that they will keep in touch with Warwick Academy over the next 50 years and come back in 2062 when the time capsule is re-opened and look and reflect back on what they put in," said Ms Vickers.
Read More About