Bacardi Limited celebrated its 150th anniversary by sealing a commemorative time capsule that is to be opened on Bacardi's 200th anniversary in 2062.
Local dignitaries attended the sealing ceremony held earlier this week; including Governor George Fergusson, Premier Paula Cox, and Opposition Leader Craig Cannonier. Trumpeters from the Bermuda Regiment provided an opening and closing fanfare and Hamilton's Town Crier opened and closed the proceedings.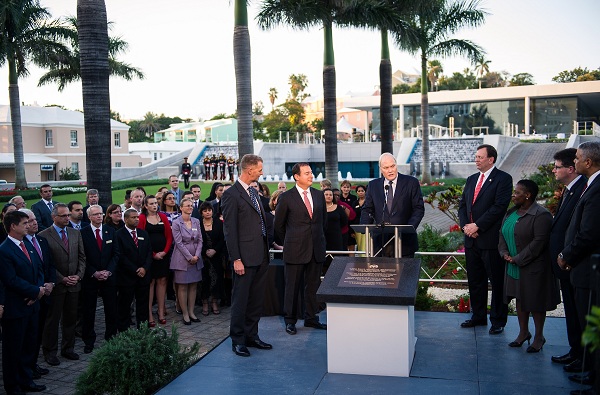 The time capsule acts as a living snapshot of the Company in 2012 and also carries messages from current-day employees to Bacardi employees of 2062—50 years from now—to honor the enduring Bacardi legacy when it is opened on its 200th anniversary.
The 6ft x 1ft custom-created, stainless steel capsule, encased in a granite cap and cement pedestal and registered with the International Time Capsule Society, was installed at the Bacardi worldwide headquarters in Bermuda at an event hosted by Chairman Facundo L. Bacardi and President & CEO Ed Shirley of family-owned Bacardi Limited.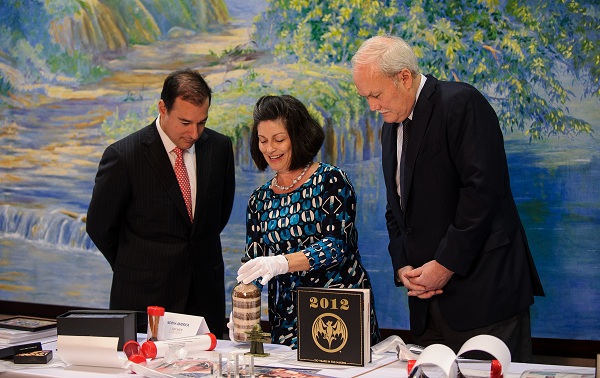 This event was attended by Bacardi executives, employees, Bermuda government officials and other dignitaries. The pedestal, which is adorned with a bronze plaque, is situated in front of the headquarters and welcomes visitors as the iconic Mies van der Rohe-inspired building is a popular tourist attraction on the island.
"All of us at Bacardi, including our nearly 6,000 employees, are honored to share our history and legacy with consumers and customers around the world," said Facundo L. Bacardi, great-great grandson of Bacardi founder.
Mr Bacardi continued: "We've been equally thrilled that so many have embraced our truly one-of-a-kind story of a brand, family and Company. Consumers really connect with our heritage because they love our authenticity and understand the Bacardi legacy that began 150 years ago.
"The small company that started with one brand in 1862 in Santiago de Cuba is now the largest privately-held spirits company in the world with a portfolio of some of the most enviable names in the industry."
Bacardi employees from around the world carefully selected mementos with the most meaning for them in this historic year for inclusion in the time capsule. Among the numerous items representing the year 2012 are:
Photograph of the remarkable gathering of nearly 500 members of the Bacardi family, representing eight generations, captured in a single moment encircling the iconic Bacardi bat logo at the family's 150th anniversary party in Puerto Rico
Commemorative medal honoring BACARDÍ rum as the "World's Most Awarded Spirit," an honor achieved with nearly 600 awards for great taste, quality and innovation
Collage of award-winning communications, packaging, design and promotional items commemorating the brand and Company's 150th year
Letter written in an ancient style of Chinese characters, honoring the tradition of paying homage to timeless heritage, by China-based employees with personal messages next to their photos
Hand-written notes of inspirational messages from German employees
The first-ever tv ad for BACARDÍ Big Apple rum in Brazil, one of Bacardi's fastest-growing markets in Latin America
BACARDÍ rum ad marking the anniversary broadcast on a 23-story tall electronic billboard in New York City's famed Times Square
Decorated African storage gourd, an important cultural and social symbol shared among friends in Kenya, one of our newest markets as Bacardi continues to expand
A quartz geode of volcanic origin in Uruguay believed to promote concentration and exhibit positive energy—important traits to pursue new, creative ideas
BACARDÍ+ ready-to-drink bottle of a pre-mixed cocktail with mixer launched this year in Asia
To put things into perspective for those living in 2062, the U.S. company created a yearbook with various social, political and economic highlights of 2012—including the cost of a gallon of gas, list of top music downloads, national news headlines
Read More About