CedarBridge Academy yesterday [May 3] hosted a tree planting ceremony in memory of their former student Nahge O'Brien, who died of cancer at only 16 years old. Representatives from the school's faculty, student body, Bermuda Sloop Foundation and Nahge's family addressed those gathered.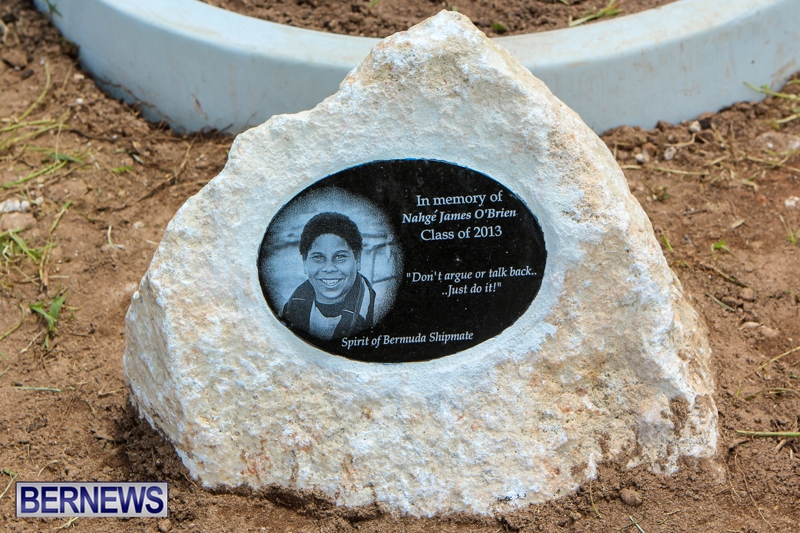 Nahge was diagnosed with leukemia in December 2010. He went away to receive treatment including chemotherapy and bone marrow transfer, and CedarBridge staff and students rallied around him raising more than $2,500 through a "Grub Day" to help towards his medical expenses. He returned to school in September 2011, however his cancer returned and claimed his young life.
Described as being a popular student who often had a smile on his face, Nahge's fondness and skill for both science and sailing were remembered. CedarBridge Academy Principal Kalmar Richards told Nahge's parents that knowing their son enriched their lives, and also said an award named after Nahge ensures his pursuit of excellence can live on.
"Some people brighten the world when they show up," said Mrs Richards. "And Nahge did just that. His life, his example and his noble fight are reminders that it you that it is not the number of years we live, but what you do during those years."
Nahge's parents — Morris and Margaret O'Brien — were present, and Mr O'Brien said he was both emotional and thankful for the opportunity to dedicate the tree in memory of his son. He said it can serve as a reminder of Nahge's love for science and effort to persevere through all obstacles.
A small rock sits in front of the cedar tree, which has photo of Nahge, with the words "In Memory of Nahge James O'Brien – Class of 2013″.
Click photos to enlarge:
Read More About