Students at St. George's Prep School stepped back in time during Heritage Month by donning period costumes and learning about different aspects of Bermuda's history.
An entire day was given over to celebrating Bermuda's culture, beginning with visits to historic sites and museums in and around St. George's.
Students from first to sixth grade were accompanied by their teachers — many of whom had also transformed themselves into characters from Bermuda's past — as they wandered through the Olde Town's winding streets. Visitors to the island were thrilled by seeing the children in period costumes.
The students learned why St. George's — founded in 1612 — was named a  World Heritage Site by the United Nations Educational, Scientific & Cultural Organization [UNESCO].
The international cultural organisation has described St. George's and its related fortifications as an outstanding example of a continuously occupied, fortified, colonial town dating from the early 17th century and the oldest English town in the New World.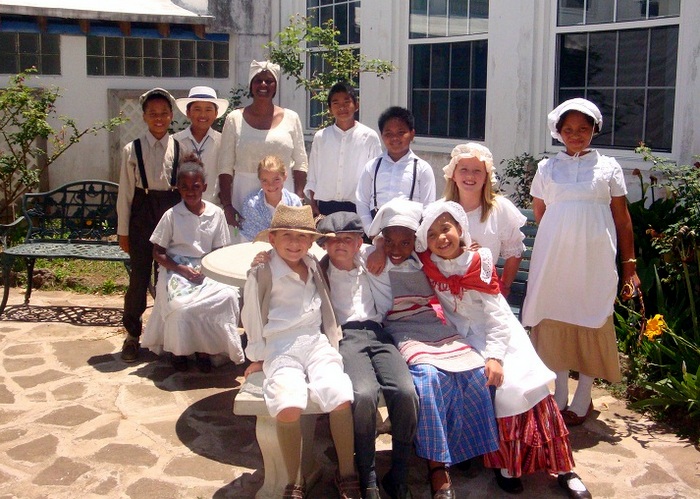 The children also visited the World Heritage Centre near Penno's Wharf where they enjoyed films and various interactive displays focussing on St. George's past.
Among other things, they learned how the first permanent settlers who arrived on "The Plough" in 1612 abandoned their first village on St. David's to start building structures on St. George's — located in a sheltered sound that kept ships protected — and how the town later became a centre for the whaling industry.
The updated exhibits at Fort St. Catherine museum enthralled the children who also had great fun wandering through its deep tunnels.
Mrs. Judith James was the guest speaker during a special Bermuda heritage-themed assembly. She entertained and educated both the children and the adults who attended. She taught the children about how people used to bathe using steel tubs, carried well water in pails and fetched ice from specially designed buildings prior to the invention of the refrigerator.
She displayed an old John Barritt & Son Ltd. glass bottle which once contained "mineral water" — the local soft drink manufacturer was established in 1874 but during its early years Bermuda's children might only expect to enjoy a carbonated beverage from Barritt's as a once-a-week Sunday treat.
Mrs. James emphasised that both good manners and a willingness to share were old Bermuda traditions that she wanted to see continued.
She also talked about the ability of Bermuda's children to "make something out of nothing" in the days before mass-manufactured toys –she explained how young people used to turn their hands to making slingshots, bows and arrows and used pawpaw leaves to have fun blowing bubbles.
She also taught the children some old hand-clapping games and a game involving a bicycle wheel and a stick.
The children were thrilled when the distinctive sounds of the Gombey drummers began to beat outside the school hall. The arrival of the drummers and two Gombeys dancers energised the whole school, with adults and children joining in their energetic demonstration.
After lunch the children were divided into multi-age groups and played old fashioned games including marbles, jacks and hopscotch.
Some children baked old fashioned cookies and banana bread, others worked on traditional arts and crafts while another group went on a horse and buggy ride. To round out the day, a cricket game was played between Somers and Gates Houses with Gates emerging as the victors.
The children enjoyed the day, which enabled them to gain a deeper insight into our culture as Bermuda celebrated Heritage Month over the month of May.
Read More About