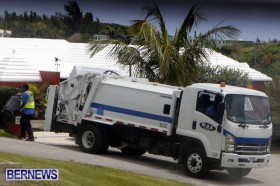 [Updated] The Public Works Ministry has not responded to yet our request for clarification on when garbage collection would begin again, however workers were seen out today [June 19] making their rounds collecting garbage.
The delays were caused by the recent industrial action, and numerous comments have been left on Bernews with people complaining about their trash not being picked up, with some noting the odor it was creating.
On Friday [June 14] the Ministry of Public Works said there was a delay in the collection of garbage in the East End, and it would be picked up on Tuesday [June 18]. In many areas of the East End collection did not take place on Tuesday, however seems to be underway today.
Last week some of the Works & Engineering staff downed tools in support of a colleague who was suspended for the unauthorized use of a Government vehicle.
The situation was resolved yesterday, with the Ministry of Public Works advised that the workers would return on work this morning. It was agreed that the employee will receive a one day suspension and that the remaining employees that took part in the walk out will be paid for 2 ½ days out of the 4 days away from work.
Update 2.37pm: The Ministry of Public Works said they "would like to advise residents that as a result of the industrial action at the Government Quarry which has now been resolved, there has been a delay in garbage collection to both residents in the East and West End's of the Island.
"Collection staff resumed regular garbage collection this morning and are in the process of addressing the backlog of garbage which has increased over the public holiday weekend.
"In the meantime the Ministry advises residents to either re-bag their garbage or bring their garbage to the Tynes Bay Public Drop Off Facility on Palmetto Road, Devonshire for proper disposal.
"In addition residents are advised to use a disinfectant that may be purchased from a local store to mitigate unsanitary conditions until the garbage is collected.
"The Ministry has advised that it will take the necessary steps to clear the backlog and the Ministry apologizes for the inconvenience caused over the past week."
Read More About