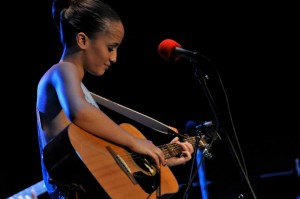 After a highly successful inaugural event in 2012, the Lennon Bermuda Peace Concert is set to return to the island in 2013, with local fan-favourite Rachel Brown again making an appearance in order to perform a new version of Watching the Wheels, along with a host of new material from the singer's own catalogue.
Born to a Bermudian father and an Ethiopian mother, Brown was raised in New York, but her talents have brought her to the island several times over the past few years as she shares her own blend of island, hip-hop, world, and country elements via entirely unique songs and performances. After making a mark on the Bermuda music scene during a series of concerts in 2009, Brown returned last year in order to perform at the first iteration of the Lennon Bermuda Peace Concert, making a big impression and earning her an invitation to this year's event.
A self-taught artist who has been able to garner the kind of fame and attention usually reserved for those groomed to be stars, Brown has opened for R&B sensations Robin Thicke and Mary J. Blige in Bermuda and was also invited to perform in the Bermuda Music Festival in October, 2009.
Ms Brown herself has been described as a legend in the making. Her forays into music began when she purchased a guitar during her gap year after high school. But her creativity was alive and thriving long before that. "I was always into making stuff," she said. "Ever since I was small, no matter how it manifested itself, I would make something."
Rachel Brown's "BumbleBee" music video:
"She is very, very self-taught," said her father. This is evidenced by the expansive range of her artistic ventures, from producing mini magazines at the age of 14 to silk-screening her own clothing."
In solo recordings, with her guitar or ukulele, her unique voice combines sweetness, sultriness and vulnerability, enchanting the listener.
As a fairly new artist with no formal musical training, Ms Brown found her voice the old fashioned way. "My songwriting process—which started about five years ago — consisted of grabbing my guitar and learning to play it while I wrote these songs," she said. "I just kind of play things until they sound right."
Intended to raise money for various charities and non-profit organisations in Bermuda, the first Lennon Bermuda Peace Concert managed to donate $92,500 to charity.
Last year's performers included the Bermuda School of Music, McCartney K, Joy T Barnum, Johnathan Frith, Christina Frith, Heather Nova, The Von Friths, Bailey & Talluza Tzuke, Judie Tzuke, The Von Tzukes, Paul Muggleton, Bailey Outerbridge, Steve Easton, Mia Chambray, K. Gabrielle, Phil Morrison, Roy Young, Tiffany Paynter, Michael Cacy, Bermuda Folk Club, Chewstick, Uzimon, Biggie Irie, Errol Reid, Robery "Sai" Emery, The Love Singers and Maxi Priest. You can watch video footage of all the performers  last year by clicking here.
The 2nd Annual Lennon Bermuda Peace Concert, featuring a special tribute to Bob Marley and the Beatles, is set to be held on September 21, 2013 at the Bermuda Botanical Gardens.
Read More About
Category: All, Entertainment, Music