According to a recent analysis from Profiles of Bermuda, the Bermuda economy could shed as many as 2,400 jobs in 2013 — or 6.8% of the workforce — if current job trends continue.
The Company said, "This would follow on the heels of nearly 2,000 jobs lost in 2012, 5.2% of the workforce. The economy shed nearly 5,000 jobs from its peak of just over 40,000 in 2008, to 2012.
"The current forecasted job losses, if they actually pan out, would indicate that the 5-year recession has not yet run its course and will continue into 2014.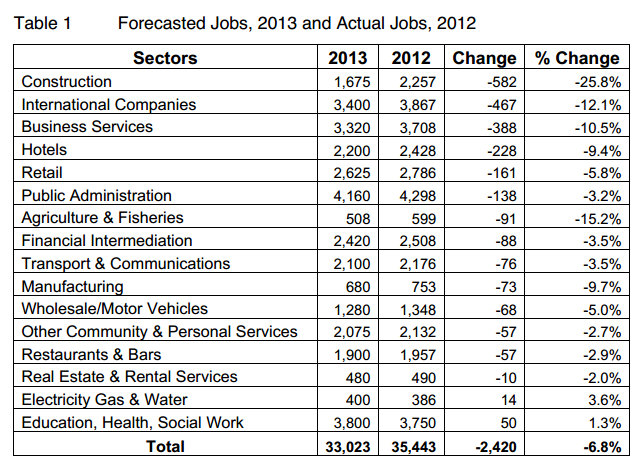 "The most significant job losses are expected to occur in the Construction Sector where one-quarter of jobs (25.8%), or nearly 600, could be gone by the end of the year. The International Company Sector could lose nearly 500 jobs or 12.1% of its workforce.
"Business Services, which acts as support to the International Sector, could suffer a 10% decline or nearly 400 jobs. Only two of the 16 sectors are expected to show an increase in jobs – Electricity, Gas and Water, up by 3.6% or 14 jobs, and Education, Health and Social Work, up by 1.3% or 50 jobs."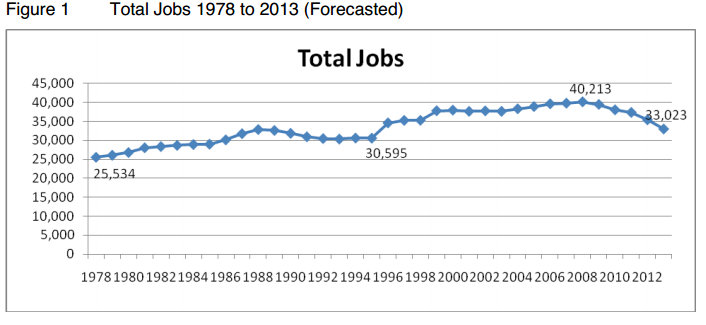 Earlier this week the Ministry of Finance released information about the fiscal performance to date; covering revenue, expenditure and the debt.
"Economic data for the first half of this year are consistent with the Ministry of Finance's view that the current economic malaise will likely persist through 2013," said the Ministry.
"However, there are signs that the corrective measures outlined in the 2013/14 Budget Statement, as well as various other initiatives, are having a positive effect on jobs and the economy."
- Charts provided by Profiles of Bermuda
Read More About