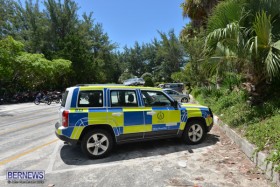 [Updated] Two men were arrested yesterday afternoon [Aug 19] after they were chased and caught by Lifeguards and Park Rangers after they were suspected of stealing personal belongings from people at Horseshoe Bay Beach.
Police attended Horseshoe Bay Beach at approximately 1pm yesterday, and two young men were seen in police custody on the beach, and the police were seen speaking with beach patrons in the area.
The police confirmed that two 19 year olds were arrested in connection with the incident.
Update 4.15pm: A police spokesperson said, "Police responded to a report of a theft at Horseshoe Bay at 1pm yesterday. It appears that a tourist at the beach saw two black males sit in her friend's chair and start to rummage through her personal belongings whilst she had stepped away.
"The woman shouted at the two males who quickly disappeared into the crowd on the beach. As a result she alerted security in the area, who began a search for the two males.
"A few minutes later another tourist noticed the same two males removing a bag from the beach, she called for help and a chase ensued with the life guards, park rangers and the two males.
"The two suspects were caught and were subsequently detained until the police arrived on the scene. The two 19 year old males were promptly taken to Hamilton Police Station, processed and detained.
"All of the stolen goods were recovered and a court appearance is expected in the near future."
Read More About