Fifteen Bermuda Bodybuilding and Fitness Federation members went to the CAC Bodybuilding & Fitness Federation Championships in Santo Domingo, Dominican Republic.
A total of 239 athletes from 28 countries took part and the Bermuda team put on a very solid performance, with 12 of the 15 athletes finishing in the top 6 of their class.
Sabrina Burgess finished second in the Figure Fitness B Class Division, while Kimberly Cumberbatch finished 4th. Competing in the Figure Fitness C Class Shameela Simons finished 2nd, and Welma Steede finished 6th.
Sabrina Burgess and Shameela Simons, who both finished 2nd, at the Bermuda show last month: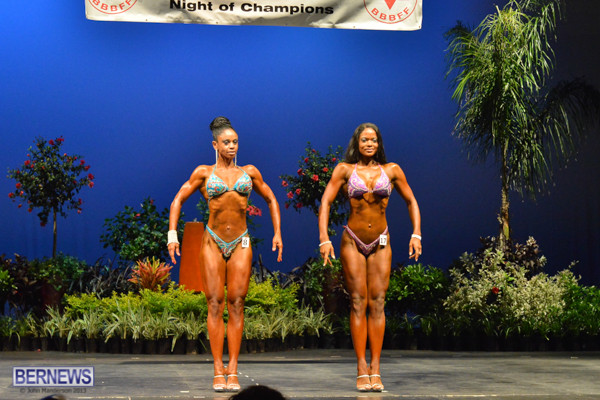 In the Women's Fitness Class Nicole Tovey finished 2nd, while Hafid James finished 4th in the Men's Physique Class, Eston Rawlins finished 4th in the Men's Fitness Class and Yves Paul finished 5th.
Competing in the Classic Bodybuilding Class Jeftha Miller finished 4th and Deon Brangman finished 5th.
Competing in the Women's Bodybuilding Class, Marina Jn Pierre-Wilkinson finished 6th and current Mr. Bermuda Javaughn Dill finished 3rd in the Men's Bodybuilding Class.
Also representing Bermuda was Denielle Dunn in Bikini, Kyle Santucci in Men's Physique and Susan Rebello in Women's Bodybuilding.
Read More About