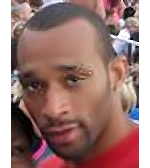 [Updated] After over two weeks 'on the run', 25 year old Howard Ascento was captured this morning [Sept 25] in Warwick, the police have confirmed.
Howard Ascento [pictured] sprinted out of Magistrates' Court on September 6th after being sentenced for traffic offences.
On Monday two people were arrested for harboring a fugitive after a joint team of officers from Department of Corrections and Bermuda Police were on patrol looking for Ascento in the area of Upland Road in Devonshire.
"As police approached the residence, the suspect made good his escape in the surrounding area," said a police spokesperson after the incident.
Yesterday one person was charged in connection with the alleged  incident, with 26 year old Ryan Spencer pleading not guilty, released on bail, and set to stand trial next month.
At his initial Court appearance on September 6th, Ascento had pleaded guilty to offences including having no drivers licence, no third party insurance, riding an unlicensed motorcycle, and riding whilst disqualified.
Seconds after Senior Magistrate Archie Warner handed him a ten day prison sentence, Ascento dashed from the Courtroom, and remained at large until this morning.
The police have said they will provide additional details later today.
Update 10.06am: A police spokesperson said, "Around 7:55am on Wednesday, September 25th a joint Bermuda Police Service and Department of Corrections team executed a search warrant at a Spring Hill, Warwick residence regarding fugitive Howard Ascento. Mr. Ascento was located at the premises and subsequently taken into custody. A court appearance is anticipated in due course."
Update 11.11am: Looks like Ascento is in Court today, we will update as able.
Update 12.13pm: Ascento was charged, pleaded guilty, and sentenced to four months. Details here.
Read More About