[Updated with video] The Bermuda End-to-End today announced it is creating the Catlin Marine Grant, a three-year $100,000 initiative to support new charitable programmes to increase the awareness of, or promote action to preserve and protect Bermuda's marine environment.
The new initiative is linked to the Catlin Seaview Survey, a series of worldwide scientific expeditions launched by Catlin in 2012 to document the composition and health of the world's coral reefs.
"From its inception, our event has encouraged its participants to respect, value and appreciate the Bermuda environment," said Anne Mello, chair of the End-to-End Charitable Trust. "This new initiative, to begin in 2014, is a wonderful extension to our purpose."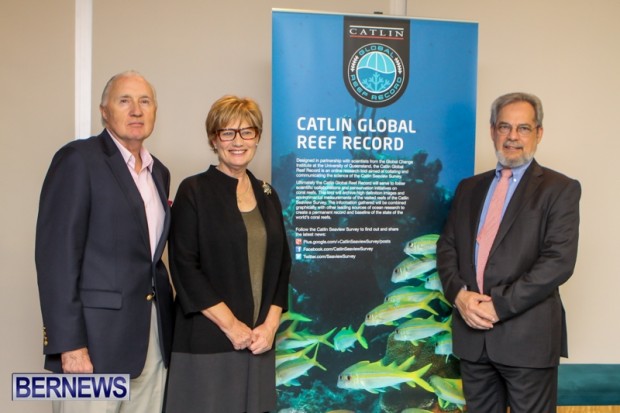 "We are very excited to announce this special grant to support local charities involved in marine environmental protection," added Graham Pewter, CEO and President of Catlin Bermuda. "
"In light of the reef-mapping work undertaken by the Catlin Seaview Survey in Bermuda this year and our wish for a lasting legacy, the creation of the Catlin Environmental Grant is a great way to generate new initiatives within the local charitable and scientific community. Over the next three years we will award $100,000 to the Catlin grant.
"Our goal is to encourage the creation of new projects which have measurable outcomes and are sustainable over time. These can be either scientific or educational projects. We welcome collaborative initiatives from local charities for this new award."
Deadline for submissions will be February 28th. A shortlist of charities will be selected, which will then present their proposals in person to a committee of End-to-End trustees and leaders of Catlin Bermuda, who will make a final selection. Applications can be downloaded from the event website, www.bermudaendtoend.bm
This new initiative stands alongside the funds raised for other Bermuda charities by Catlin End-to-End participants in the May 3, 2014 Island-wide event. Each year, the event raises up to $250,000 to support local good works.
Minister of Health & Environment Trevor Moniz said, "As Minister of Health and Environment, this is certainly an initiative which I support. I commend their goal to encourage the creation of new environmental projects which have measurable outcomes and are sustainable over time – whether they be scientific or educational projects
"It is a great way to preserve what it looks like now while also promoting diving in Bermuda as broadly as possible. We Bermudians have a strong tradition of stewardship of our reefs, a tradition that this government intends to continue.
So thank you again to Catlin and End-to-End for providing further opportunities to appreciate and protect our marine environment.
"It seems like you are always doing something positive for Bermuda… whether it be environmentally (through the creation of this grant) or socially (having raised more than 4 million dollars to-date for local charities through your annual End-to-End fundraising event). You certainly make a huge difference in the lives of thousands of Bermuda's residents."
Read More About
Category: All, Environment, News