The school-age branch of the armed services joined up with the Regiment for an exercise based at Ferry Reach in St George's.
The Junior Leaders spent the weekend honing their skills in the field and acting as 'enemy forces' as their older counterparts in the Regiment practised their battlefield command skills. They also used the Laser Tag system, which records hits from laser-equipped rifles.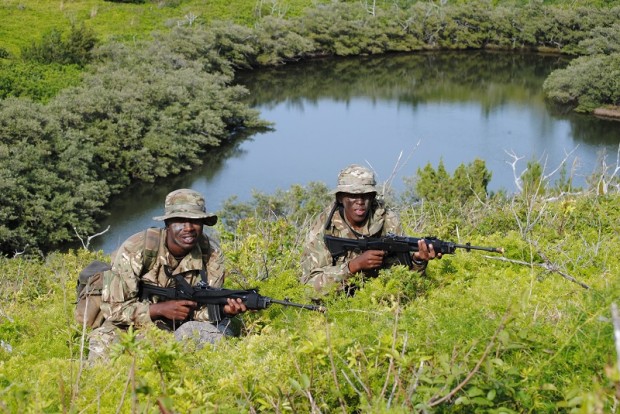 Junior Leaders' Lance Corporal CaVon Raynor, 14, from Somerset, said: "I've enjoyed it very much. We've been helping the Regiment doing section training – I was hiding in bushes, waiting until they got close then surprising them.
"We also practised camouflage and concealment, assault training and patrolling."
The Berkeley Institute pupil, who aims to be a pilot in the RAF, added: "It can be quite tough, but we learn self-discipline and how to be a good leader and to rely on yourself as well as rely on one another in a team."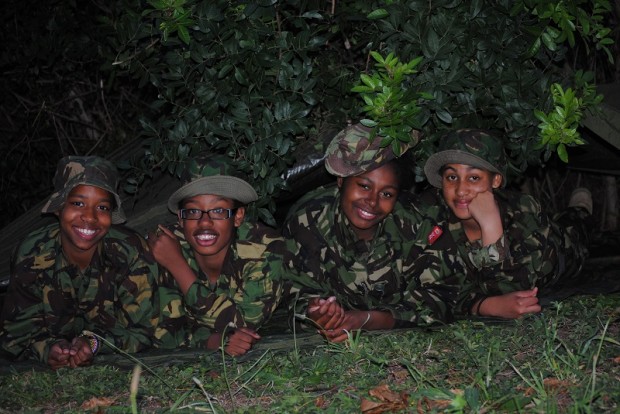 A total of 27 Junior Leaders, as well as adult instructors and parents, took part in the exercises, held from Friday night to Sunday afternoon.
Junior Leaders Sergeant Major Dean Rubaine said: "It's very encouraging to see these young people develop skills and confidence. It's a youth programme, so we try to balance the serious with the fun stuff."
Junior Leaders Commandant Major Henry Campbell added: "We have had a surge in applications, which is good. The more experienced ones now have to supervise and manage a group, so they're learning a lot.
"We have grown a lot over the last few years and a lot of that is down to the parents' support. They have seen the value of the programme, recommend it to other parents and also travel with us for summer camp overseas – they've been tremendous."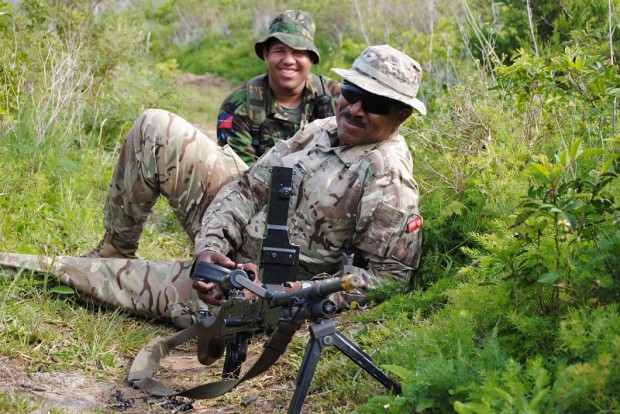 The Junior Leaders worked alongside the Regiment's Potential Junior Non-Commissioned Officers (PJNCO) cadre, who were practising simulated section attacks and fieldcraft.
Private Steven Skinner, a conscript, said: "It's been a lot of fun – it's not easy, but it's definitely a rewarding experience."
The 27-year-old accountant from St George's added: "It's all been about patrols, hand signals and attacking enemy forces and setting up harbour bases."
He admitted: "I wish I was a bit fitter – I'm huffing and puffing a lot more than some of the younger guys, but it's getting me fitter, that's for sure."
Private Otis Nelson, at 47 one of the older volunteers, said: "I'm learning a lot and learning new things. I get a lot of encouragement from the youngsters and I try to encourage them as well – they call me 'uncle'.
The senior electrician from Warwick added: "Sleeping out in the rain is tough, but it's not happened often. I prayed for good weather for this weekend and it seemed to have worked."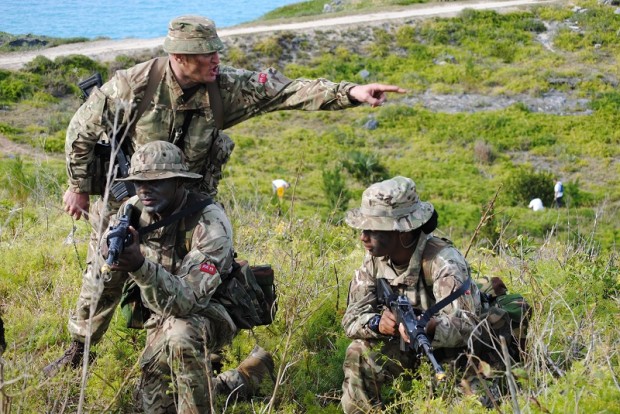 Regiment Captain Preston Gill, a former officer in the Canadian Army, said: "They came off recruit camp and this is very challenging. They have to learn how to be an infantry soldier and a commander – it's more than other armies would expect from their soldiers.
"We have a good mix in the PJNCO, including Bermudians, non-Bermudians and four women, who are doing very well. We've got people from the professions and others who don't have a job at the moment.
"But they're all here for the same thing – looking to give back to Bermuda and get some military training and adventure. They're becoming a team and learning life skills, time management, leadership and self-discipline."
Read More About
Category: All