[Updated with video] The political conflict regarding the ongoing "JetGate" matter continued, with the latest development seeing OBA Chairman Thad Hollis saying that his party never received any funds from Mr. Nathan Landow and his associates, adding that the OBA plans to conduct an internal investigation into the matter and make their findings known to the public.
OBA Chairman Thad Hollis and Co-Deputy Chairperson Karen Magnum today: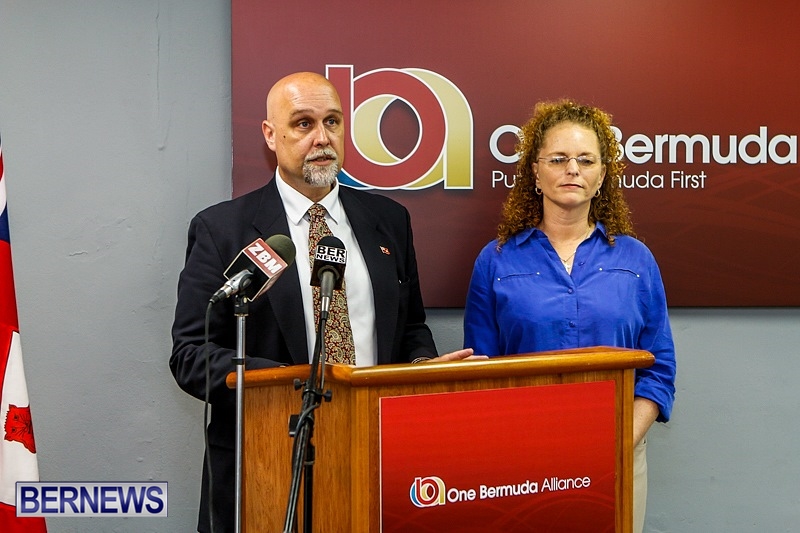 Mr. Hollis was speaking at a press conference this afternoon [May 14] which has just concluded, and we will update with the full video and additional information later today.
Update 1.09pm: Video of part of today's press conference where Mr. Landow was discussed.
Update 6.40pm: Opposition Leader Marc Bean has commented on today's development, his full statement follows below.
"On Friday in Parliament, Premier Craig Cannonier called the www.think.bm article "foolishness" and said that this issue, "is not a concern of the people".

Today, a year after this issue first came to light, the Executive of his own party has launched an internal investigation into their own leader's actions.

Earlier today, instead of calling the serious allegations "foolishness", OBA Chairman Thad Hollis said, "we have a story, that appears to have some validity to it". What is even more shocking is that the Chairman admitted that the Premier of the Country did not tell the truth to the Chairman of his own party when asked about Mr. Stephen DeCosta's participation in the trip now known as JetGate.

Though many Bermudians should rightfully be concerned if an investigation that has only been commenced a year after this issue first came to light can be fair, the PLP will await to see how transparent the OBA will be. To date, their transparency has made a mockery of their election pledges and good government. However, for the first time, it seems that some members of the OBA are saying enough is enough.

It is imperative that the Attorney General, Mark Pettingill, and the Minister of Tourism, Shawn Crockwell also come clean to the people about the details of this Washington trip. It is my hope that the OBA MPs who have defended or remained silent while the Premier and his Cabinet colleagues make a mockery of good governance will now have the courage to speak up for what is right. Those that choose to remain silent will be just as complicit as the Premier if any wrongdoing is found.

As I said yesterday, "Investment in Bermuda is critical for our success and for our reputation to be clouded with this affair is unfair to everyday Bermudians who are looking for jobs and careers. The PLP fully supports efforts to see development at Morgan's Point, Par-la-Ville, and the Club Med Site (among others) and it is essential that the OBA government sort this matter out."

I once again ask for the Premier and his Cabinet colleagues to do the right thing and, "Just tell the truth"."
Update May 15, 1.58pm: Premier Cannonier said, "I welcome and support any effort to ensure full transparency and accountability. The inquiry was approved with a view to clearing away doubts and questions that are distracting attention from the Government's hard work to rebuild Bermuda's economy and the much needed jobs that come with it."
Read More About