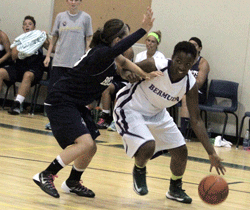 The Bermuda Basketball Youth Federation [BBYF] hosted the third and final night of its Basketball Summer Jam inside the Berkeley Institute Gymnasium.
The Summer Jam offered spectators an opportunity to watch the Bermuda Women's Select team, which featured Olympian Jenaya Wade-Fray and Erica Woods take on NCAA Division 3 outfit University of Pittsburgh Greenburg Women's Basketball team.
With the series tied at 1 – 1, this one went down to the wire, the teams battled hard in the first half that produced 52 total points with the score locked at 26-26. The second half saw the game hanging in the balance, Bermuda was down 54-52 with 4.3 seconds left in the game.
Wade-Fray missed the free throw on purpose, and after a mad scramble for the rebound with only 2 seconds left on the clock, the Olympian made no mistake in hitting a 3 pointer to give Bermuda the 55-54 win in dramatic style.
Wade-Fray and Woods both scored 20 points to lead Bermuda to victory, while the University of Pittsburgh Greensburg got 20 points from Kayla Dames and 7 points from Megan Hans.
Read More About