[Updated] The 2014 Groundswell Lionfish Tournament was held today [July 19] with the weigh-in taking place at the Bermuda Institute of Ocean Sciences [BIOS] at 3pm, after members of the public were invited to help eradicate the invasive pest by joining in by "Eating 'Em to Beat 'Em."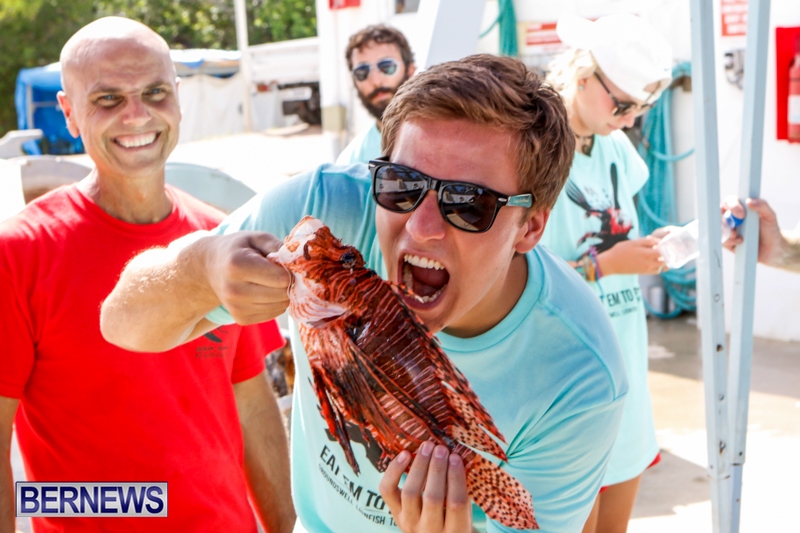 Approximately ninety four people took part in catching seventy two lionfish ranging in size between six and seventeen inches. Lionfish are indiscriminate predators, preying on species which are commercially, recreationally and ecologically important.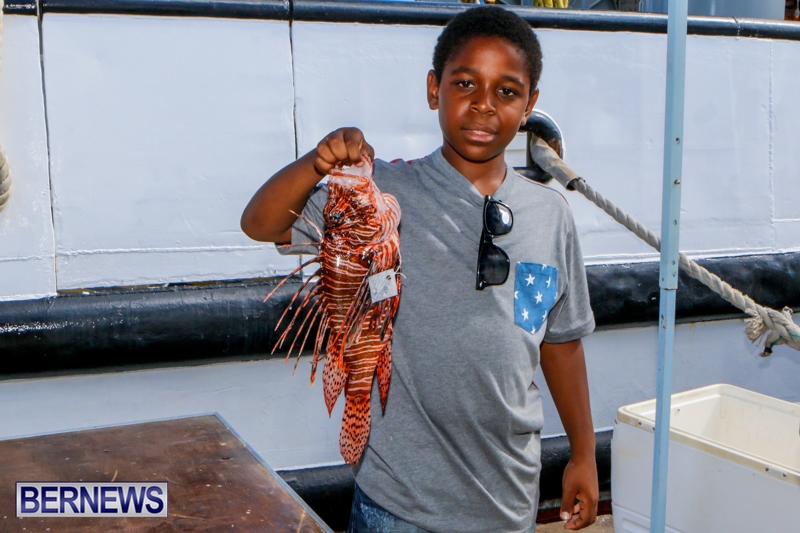 Festivities kicked off at 2.30pm which included a bouncy castle, a food vendor, a cash bar provided by Goslings along with live music and DJs. A lionfish handling and a preparation tutorial was held after the weigh in followed by free lionfish tasting and the prizegiving.
Prizes awarded included:
Largest Fish – Spencer Wood
Most Enthusiastic – Team Regiment
Least Motivated – Team Hurdy Gurdy
Huntress – Gretchen
Youngest Angler – Jackie from BIOS
Smallest Fish – Kevin from Blue Water Divers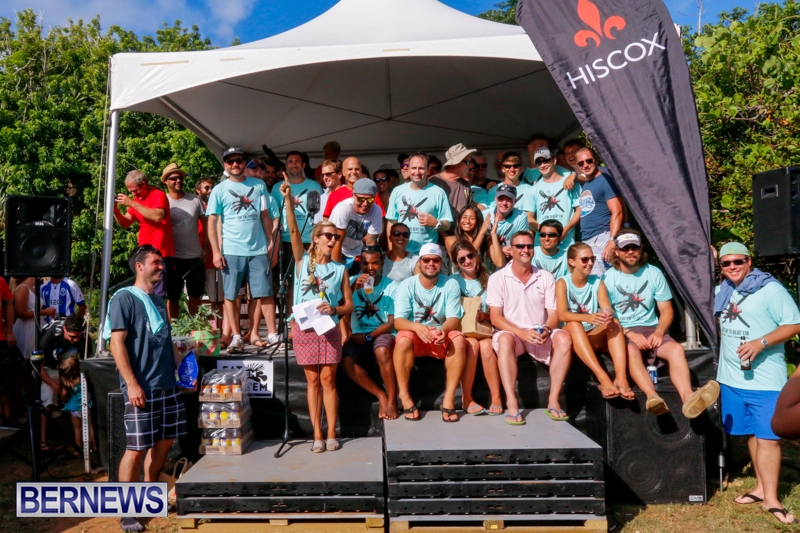 Originating in the Indo-Pacific Region, it is believed they were introduced into the Atlantic in the late 1980s by local aquariums or fish hobbyists in Florida. They have now spread throughout the Caribbean, Gulf of Mexico, South America and as far north as Massachusetts and Bermuda.
Update 9.47pm:  Added to this year's lionfish tournament was an amateur photography contest that highlighted the Groundswell Lionfish Tournament and the lionfish culling effort.
Prizes awarded included:
Best Lionfish Photograph – Sergey Goncharov
Best Action Shot of the Day – Jorge Sanchez
Most Artistic Shot of the Day – Jacqui Faries
Best Kids Photo of the Day – Catarina Russo
Best Overall Photo of the Day – Sergey Goncharov
Photos were all taken on the day and photographers had only minutes to view photos on one of the laptops provided and slightly crop and edit before submitting. Sponsored by Ubervida and Bermuda Ocean Explorers, the Overall Photo of the Day won a pair of tickets to experience Ubervida's 'Whole Day Dreaming' outing. Judges were Chris Burville and Weldon Wade.
Click to enlarge photos:
Read More About
Category: All, Environment, Environment, Marine, News, Photos