Caines Brothers Productions and 5 Star Barbershop are getting set to host a "Back 2 School" event on September 4 at the St. Paul's Centennial Hall on Court Street, with free school supplies to be handed out while barbers will be on hand in order to offer free haircuts to boys aged 4-18 as they prepare to head back to school.
A post on their GoFundMe page, said: "It is that time of year again when our students are starting to ready themselves for scholastic year 2014 -2015. We invite you to join us in the true spirit of community engagement and giving.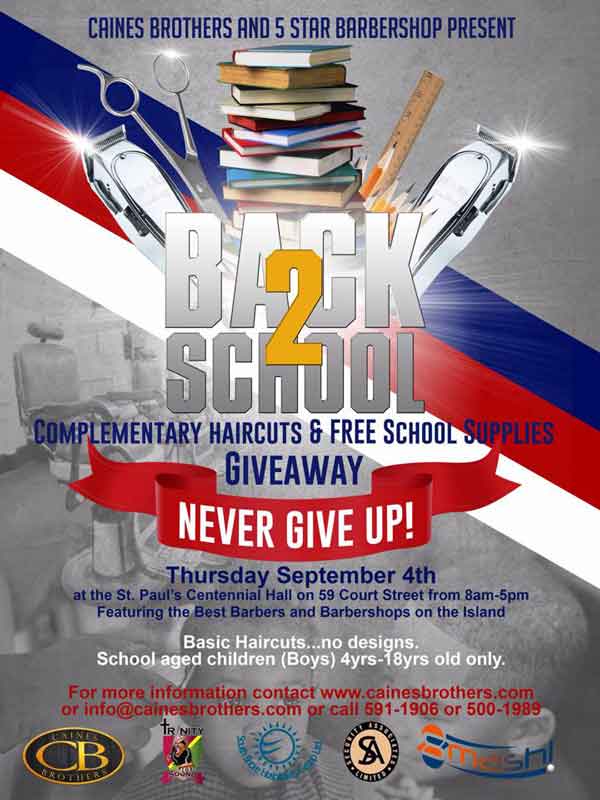 "Last year, Caines Brothers teamed up with 5 Star Barber Shop to host a day of "free" haircuts for boys. Five Star Barbershop donated their time and talents to provide complimentary haircuts to families with school-aged children [boys] who were in need of a clean, fresh look to start the new school year.
"The event started 8am to 5pm and we were able to accommodate over 215 young men at 5 Star Barber Shop to get their hair cut and to receive complimentary books, pens pencils book bags and other school supplies.
"This year we will host the event on Thursday September 4th, at the St. Paul's Centennial Hall in the City of Hamilton, which will allow for more barbers from various barbershops around the island to participate in a central location. Also, we would like to give away even more school supplies to persons in the community who are in need.
"We are looking to our friends and community partners to assist with this worthy project, as many students are currently affected by the financial climate as a result of many parents finding it difficult to make ends meet."
For more information, please contact Dwayne or Wayne Caines, or email info@cainesbrothers.com or call 591-1906 or 500-1989.
Read More About