Marshall Diel & Myers Limited announces the selection of its 2014 Legal Scholarship Award recipients: Ciara Burrows, Alexis Haynes and Jennifer Looby.
The firm said, "Each recipient will receive a $5,000 award to assist with the costs of pursuing their legal studies. Having received so many high quality applications, it was extremely difficult to choose only one recipient so the Committee decided that they would split the award amongst these intelligent and talented young women."
"As an advocacy Firm, we were looking for candidates that were well-spoken, confident, and articulate. These three young ladies are bright, driven and personable and on the path to becoming solid contributors to the Bermuda Bar", Kevin Taylor, Managing Director.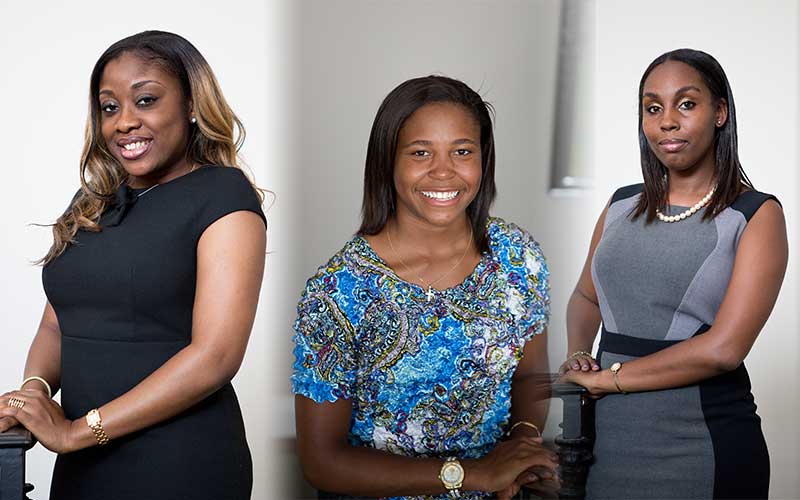 Ciara Burrows recently graduated from Saltus Grammar School's Graduate Year Program as Head Girl and Valedictorian. In addition to her exceptional academic achievements, she was actively involved in all aspects of school life and pursued many extra-curricular activities outside of school.
Ms. Burrows was heavily involved in her school's debate and public speaking programs. She has represented Bermuda at the International Independent Schools Public Speaking Competition and the Heart of Europe Debate Tournament. She plans on pursuing a career in law after studying legal studies and economics at the University of Waterloo in Canada.
In explaining what the award meant to her, Ms. Burrows commented that, "Being awarded this financial aid puts me another step closer to achieving my legal aspirations. As a Marshall Diel & Myers Limited Scholar, I look forward to becoming a valuable asset to the Bermudian economy in the future and benefiting from the Firm's experience and strong core values."
Alexis Haynes obtained her Bachelors of Commerce at McGill University with a triple concentration in Marketing, Entrepreneurship and Strategic Management. After working in the reinsurance industry for two years, she decided to pursue her law degree at Queen Mary, University of London.
During her time at Queen Mary, Ms. Haynes was a member of the African and Caribbean Society, the Law Student Society and the Pro Bono Society. She served as an editor for their legal newspaper and law journal. She has always dedicated most of her spare time to her local church Restoration Fellowship.
She is now pursuing her Legal Practice Certificate and Masters of Law at the University of Law in London, and intends to return to Bermuda to start her pupillage and her legal career.
Ms. Haynes said, "I look forward to providing Marshall Diel & Myers Limited with a strong return on their investment. In knowing that success is not a gift bestowed on select persons but a direct result of the individual's efforts, I will always continue to work hard and succeed."
In receiving the award, Jennifer Looby stated that "I am humbled to have been chosen as one of the scholarship recipients. With only two years of my legal studies left, this award alleviates the financial burden of tuition and fees and allows me to focus fully on the academic school year ahead of me. I look forward to representing such a prestigious firm, who are dedicated to the ongoing development of Bermuda's legal students."
Having been inspired by the civil rights movement, Ms. Looby wanted to contribute to justice in the community by becoming a lawyer. While pursuing her legal education on a distance learning basis, she has been working as the Law Researcher for the Supreme Court of Bermuda.
Further, in addition to balancing a full-time and part-time job and being enrolled as a full time student, Ms. Looby is actively involved in the community including mentoring other young adults.
"By providing financial assistance, mentorship and professional guidance to these deserving and remarkable Bermudians, Marshall Diel & Myers Limited is honored to help them achieve their goals. We are expecting great things from these three students. Based on their hard work and perseverance to date, we are confident that they will be the ones to watch in the future." Rachael Barritt, Head of the Student Committee.
Read More About