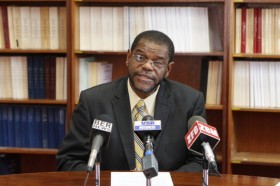 [Updated with video + PLP & OBA response]
Paving the way for a by-election in Constituency #33, Independent MP Terry Lister —  who has represented Sandys South since he was first elected in 1998  – has just announced that he will be retiring from politics.
Speaking at a press conference this morning [Sept 23], Mr. Lister said, "Today I wish to announce my retirement from Bermuda politics. I want you to note that I have not quit which is something you do soon after you start an activity and find it's not for you.
"I have not resigned which is something you do when your timetable becomes cluttered and you are hard pressed to meet all your commitments. Retire is what you do after the involvement has run its course and has now come to an end.
"I have enjoyed working on behalf of the people of Bermuda in one form or another since returning to Bermuda in 1980. My career includes 17 years as a partner at Deloitte addressing the needs of local business in particular.
"I served my alma mater, the Berkeley Institute, for many years as chairman of the Berkeley Educational Society and chairman of the Berkeley Board of Governors. It was on my watch that we were successful in convincing the government to backtrack on its plan for one senior school and to have Berkeley be the second senior school.
"After serving in the Senate for five years, I became a Government Minister in 1998 and served in various Ministries during the years of the PLP Government. Over the past two years I have served as an Independent Member of the House and have enjoyed the role that I have been able to carve out.
Mr. Lister continued, "I believe my greatest accomplishment include the combining of the eastern fire services into one unit, the passage of CURE legislation, setting the course for the build out of Southside, establishing the mature students scholarships, providing opportunities for technical students to study abroad under the NTB, and tabling the Green Paper on Energy.
"I am now content to retire and to make it possible for another committed person to serve the people of Sandy's South. This constituency has had fine gentlemen representing since the sixties and I have regarded it my personal responsibility at all times to do the best that I could for the constituency.
"This includes resurfacing the railway trail, installing a crossing at Maximart, speed bumps and lights where required. These are just some of the things that I have done over the years for the people of C33," added Mr. Lister.
Update: 13-minute video of the full press conference
First appointed by the PLP to the Senate in 1993, Mr Lister has represented Constituency #33 Sandy's South since he was first elected to Parliament in 1998.
Mr Lister put himself up for Party Leader twice in recent years, both times being defeated during internal PLP elections, first by Paula Cox and then by Marc Bean. In February 2013, Mr. Lister announced his resignation from the PLP, stating that he will sit in the House as an Independent.
The press conference is still underway as of this writing, and Mr. Lister is taking questions from the media. We will update with that video once the press conference is complete.
Update 11.16am: The press conference has just ended, and we will post the video as soon as possible. Mr. Lister spoke on the aspects surrounding a by-election, the potential third party concept and more.
Update 11.49am: Opposition Leader Marc Bean said, "On behalf of the Progressive Labour Party, we extend our best wishes to MP Terry Lister on his retirement from politics. Mr. Lister served Bermuda and the Progressive Labour Party well during his political career, in numerous capacities.
"Unfortunately, following the 2012 election, he chose to resign from the PLP and sit as an independent. We recognize his contribution to our country, and thank him for representing his community the past 16 years as a Member of Parliament. We wish him well in his retirement and future endeavors."
In addition, Shadow Minister of Finance David Burt has just tweeted the below.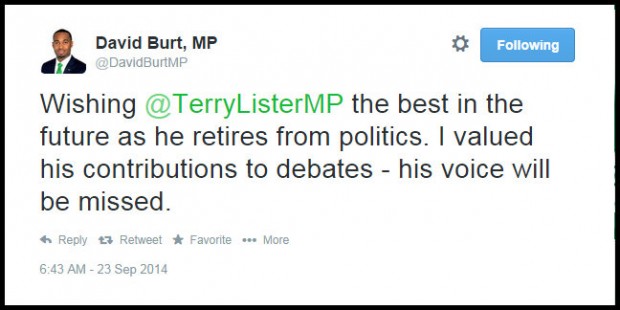 Update 12.20pm: When asked about the talk of a possible third party, Mr. Lister said "It was just that, talk. It didn't amount to anything, unfortunately. Sadly, that alternative just did not come to fruition."
When asked would there be a by-election, Mr Lister said, "Yes, the Premier will have to take the responsibility of meeting with the Governor, setting a date, and calling a by-election."
Update 2.33pm: OBA Chair Senator Lynne Woolridge said, "Mr Lister has had a long and distinguished career in politics. His departure from the Progressive Labour Party's ranks so that he could serve as an independent Member of Parliament demonstrated he was an MP who had the courage of his convictions. The One Bermuda Alliance joins with all of his colleagues in the Legislature in wishing him well in his retirement."
Read More About