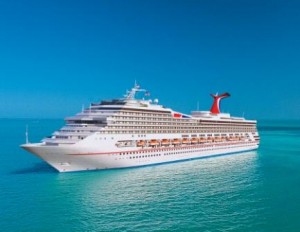 Carnival Cruise Lines has apologised to Government for failing to notify local tourism officials it was planning to reduce its 2012 Bermuda itinerary.
In a statement issued by the Florida-based cruise line  Carnival said it had conducted a review to determine why Government was not informed its Bermuda schedule was being cut back from 12 visits to just one.
"Although quite some time ago we had requested berths for several Bermuda calls in 2012, we ultimately only scheduled one voyage," the company said.
"Therefore we did not cancel any cruises that were actually scheduled and open for sale. However we did just recently notify the relevant people in Bermuda that we would not be needing those slots as our ships will be operating alternate itineraries.
"We have conducted some internal research to determine why the notification was not made earlier and have implemented new processes to ensure that this does not happen again in the future. We apologise to our partners in Bermuda for not advising them of this situation sooner."
On Sunday [Oct.30] Transport Minister Terry Lister said he had only been told the previous week that Carnival was dropping 11 of its 12 announced 2012 Bermuda cruises.
"We were surprised to only learn of the cancellations on Wednesday," said Mr. Lister. "This has put us in a unfortunate position for next year, because it will be difficult to find suitable replacement ships at such a late date.
"We are extremely disappointed by this late notification by Carnival Cruise Lines, but we will make every attempt to fill some of the empty berths with ships from other cruise lines. It is highly unusual for cancellations to occur so close to the beginning of the season."
A statement issued said, "Ministry of Transport generally finalizes cruise applications 12-18 months in advance of the actual sailings and the 12 Carnival cruises for 2012 were approved in late 2010. Carnival was notified of the approval soon after they applied for the berths."
Read More About