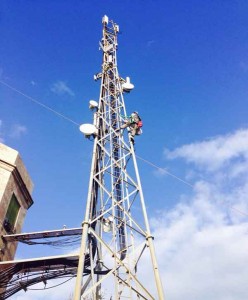 With the potential threat of Hurricane Gonzalo bearing down on Bermuda over the next couple of days, Digicel announced that its "hurricane contingency plan is in high gear and it has everything in place to best manage the events of the coming days."
A spokesperson said, "Digicel is working closely with the emergency services and critical response agencies and is making sure that they have priority access to communications.
"In addition, Digicel will co-ordinate with the Emergency Measures Organisation [EMO] and offer SMS updates to their customers covering hurricane alerts and public safety information.
"Specifically, after the impact of Tropical Storm Fay, Digicel has been working around the clock to both repair any outstanding damages and prepare its network for the oncoming storm.
"This involves expert rigging technicians climbing towers and ensuring all equipment is correctly aligned and secured."
Commenting on Digicel's readiness for the storm, Mr. Beak noted, "Our network coverage is now up to 99% with a noticed increase of calls being made and mobile internet use than even before the storm. Presumably, everyone is discussing and sharing their Fay experiences as well as getting the latest updates on Gonzalo."
"I'd like to thank all of our customers and corporate clients for their patience since Sunday morning. I'm really proud of the hard work and commitment shown by the entire Digicel team this week that have brought our services so close to 100% after only a few days of Fay's unexpected wrath.
"We have done everything possible to prepare for Gonzalo: our cell sites are checked, stocked and ready and our technical team and field engineers will be mobilised across the island. We've even flown in an additional technician to help in our preparation," continues Mr. Beak.
"Vital telecommunications equipment and experts will be on standby overseas and ready to assist if necessary and will remain available to Bermuda for emergency supplies if required.
"Our primary concern is the safety of our customers and our staff and that we keep people connected to friends and family no matter what. We would like to take this opportunity to remind people to stay safe, keep their phones charged and ensure they have credit on their phones so that they can communicate with their loved ones."
"Digicel plans to close its stores by 3pm on Thursday, October 16th and is currently expecting to re-open on Monday. Customer Care teams will continue 24/7 via 500-5000."
For all our coverage of Tropical Storm Fay click here, for all our coverage of Hurricane Gonzalo click here, and for our live blog covering both Gonzalo and Fay click here.
Read More About