Dr. Neil Burnie will be buried at sea this coming Sunday [Nov 16], with boats set to leave Albuoys Point at about 10.00am, and anyone wanting to join in with their own boat is welcome to attend.
The beloved veterinarian and ocean advocate died following a marine accident on November 11th, getting into difficulty while free diving off the waters of Horseshoe Bay.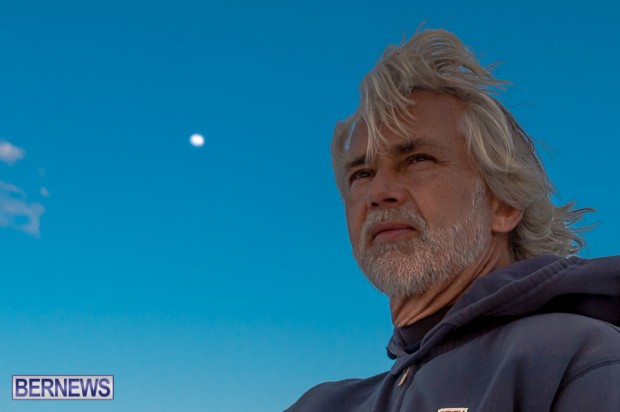 In a post on social media Choy Aming — who worked closely with Dr. Burnie for many years — said, "Now comes the part where we the celebrate Neil's life. He will be buried at sea on Sunday.
"Close family and friends will be contacted as some boats have been booked for them and the many overseas family and friends. Tomorrow's BA flight is actually full now because of it.
"There are actually a staggering amount of people to consider but we have a crack team on it. A few large boats will carry the bulk of close family and friends from Albuoys Point at about 10am.
"Anyone wanting to join in by bringing their own boat is very welcome. We basically want a boat parade from there and we will be heading around Dockyard to Western Blue Cut [the family's favorite snorkel spot] for a unique service.
"Then everyone will quickly head offshore to the actual burial site. Many people are planning to place flowers in the water as tribute. Please do your best to make sure any materials used with arrangements are biodegradable as the last thing we want to do is pollute Neil's favorite place," added Mr. Aming.
Photo of Dr Burnie in action, courtesy of Andrew Stevenson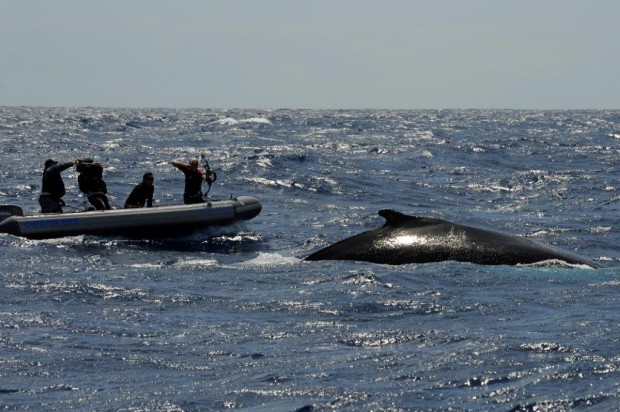 Tributes continue to pour out for Dr. Burnie, with whale researcher Andrew Stevenson saying, "Neil was a larger than life character who followed his passions and did what he enjoyed and enjoyed what he did. There can't be many days in Neil's life that he didn't live to the fullest. The world is an emptier place without him and knowing Neil, he isn't resting in peace, he just made wherever he is now a more interesting place."
Governor George Fergusson also expressed his shock and sadness at Dr. Burnie's death, saying: "I send my deep condolences to his family and many friends.He was an extraordinary man, with a rare vitality, energy and infectious enthusiasm for the natural world.
"I had only met him recently. But the excitement of the Ocean Vet project and his drive to inform people in an entertaining way both about the sea and about Bermuda was something exceptional. I hope it can be part of his legacy. I had also seen his great skill on the saxophone. Bermuda has lost a remarkable man."
Dr. Burnie's marine exploits captured the attention of an international film crew, leading to Dr. Burnie being selected to star in the Ocean Vet television series, and following his death, the producers said they will "share Neil's dream with the world."
Ocean Vet Series Producer Andrew Smith said, "There are no words to express the loss we are all feeling. Our thoughts are with Neil's friends and family.
"Neil often spoke to Dan and I about Ocean Vet as his legacy. To Neil Ocean Vet was his dream; we have this dream in our hands and his legacy by our side.
"With great honour and pride we will share Neil's dream with the world," added Mr. Smith.
Read More About