A new eatery has opened in Bermuda, with Dakia O'Brien, known for her Dae N Night Catering business, introducing Wild Wing Wednesday on Parsons Road in Pembroke.
A natural progression from her catering business, Ms. O'Brien hopes to continue to expand Wild Wing Wednesday into a full sit-in diner following its grand opening, which will be held in the coming days, following the 'soft opening' yesterday.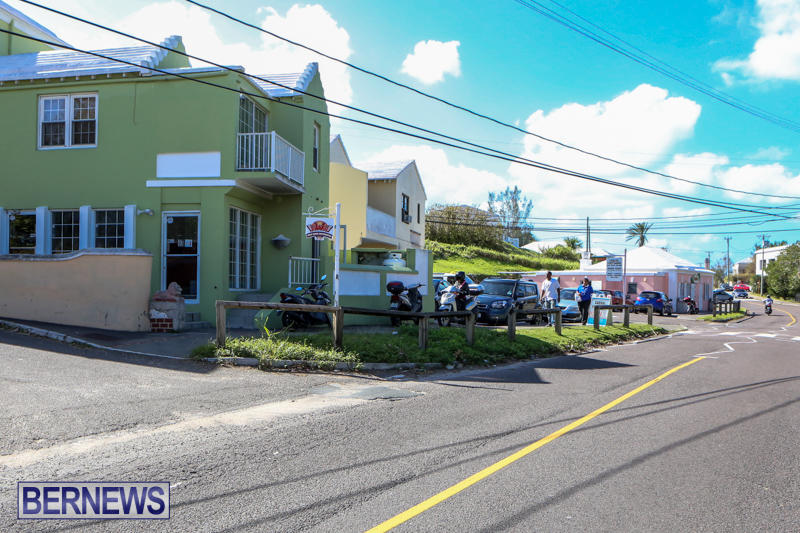 Featuring a menu laden with chicken wings, french fries, salads, and more, Wild Wing Wednesday offers wing flavours including Jerk BBQ, Honey BBQ, Special Sauce, Hot BBQ, Buffalo, Sweet Buffalo, and Triple H Buffalo, with dry rubs including Lemon Pepper, and Garlic, and classic flavours including Caribbean Breeze, Curry and Mango, Honey Mustard, Asian, Tequila Sunrise, Sweet and Spicy Honey, and Jack Daniels.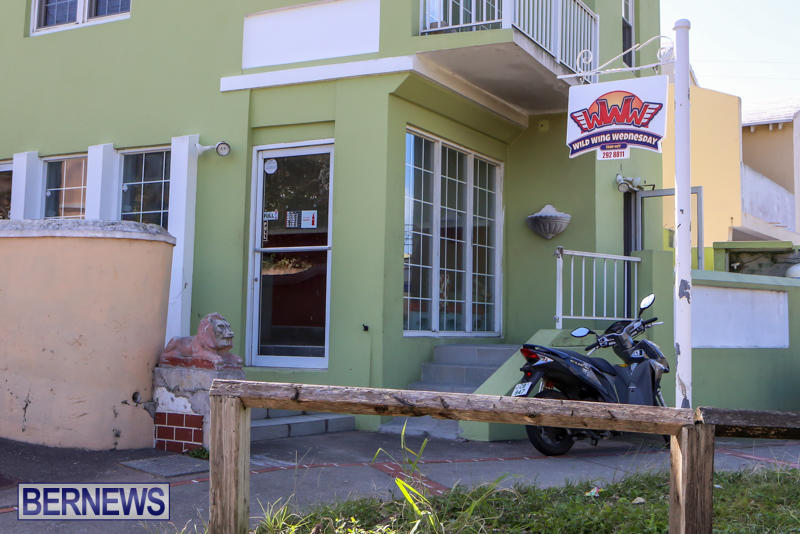 When asked how she decided to venture into this line of business, Ms. O'Brien said, "It actually stemmed off of my catering business, which was Dae N Night Catering, and we were looking for something to do steady, so it came about last year, in October. We started out with take out and deliveries on Wednesdays and here we are, a year later."
When asked about her background, Ms. O'Brien said, "I graduated from Johnson and Wales Culinary Arts in 2010 and after that I worked in a lot of big restaurants, and I always found out that my creativity was a little bit outside of the box."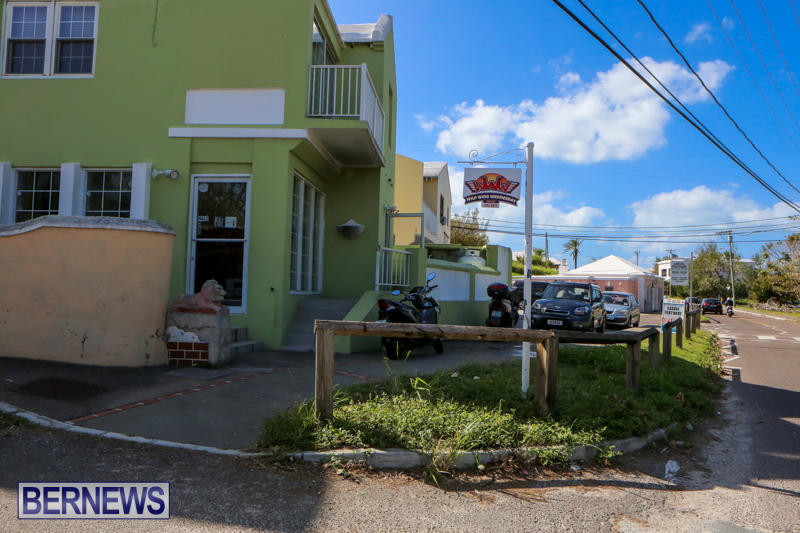 "I always wanted to explore with different things and this replaces that; their menus were set. I decided to open up my own catering business and we started off with one day per week, which was Wednesdays, so everybody knows us as Wild Wing Wednesdays.
"So I figured out why change it into something totally different? Let's keep it for how everybody knows it. But we're not just open on Wednesdays; right now, our soft opening hours are Tuesday through Sunday, 11am – 5pm, and we're closed on Mondays. After the grand opening, then we'll start opening nights."
Dakia O'Brien at her new eatery: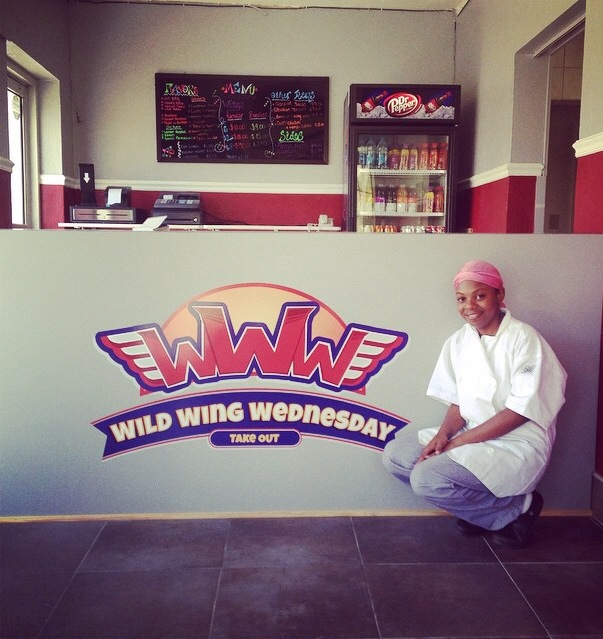 When asked how the new opening was being received, Ms. O'Brien said, "Today [Nov 4] has been good so far. I knew that a lot of people were waiting for it, especially a lot of my old customers, but I have seen some new faces in here today, and it's a good feeling. I think we're going to do good."
When asked about her goals for the business, Ms. O'Brien said, "Definitely to expand. We're going to move into doing beer and wine, delivery again, and also looking into eventually bottling our sauces for sale. I'd like to see it grow into an establishment, like a diner, with sit-in and what not."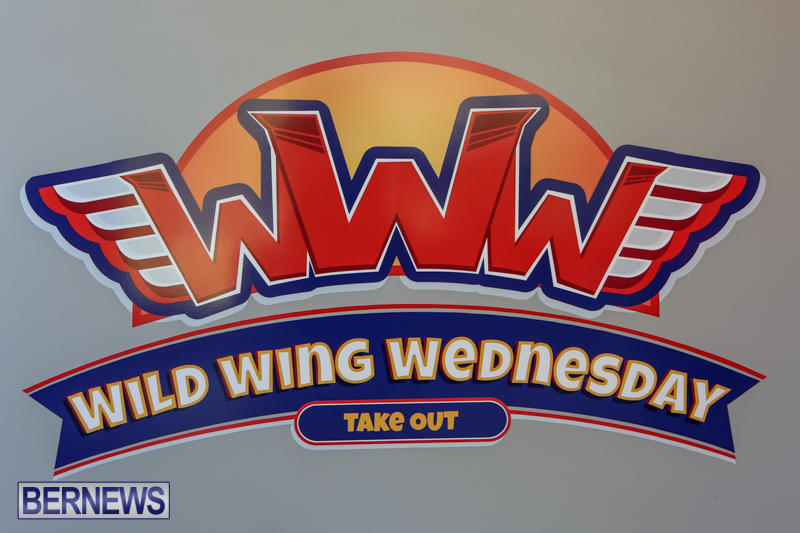 When asked about the menu, Ms. O'Brien said, "We have 12 standing sauces, which include my classics from the original Wild Wing Wednesdays, and then we have variations of barbecues and variations of buffalos, and then we have the dry seasonings.
"What I want to do with the flavours is every month we'll feature two or three different ones; it might even be every week, it just depends on how I feel that day. So you can always expect something different."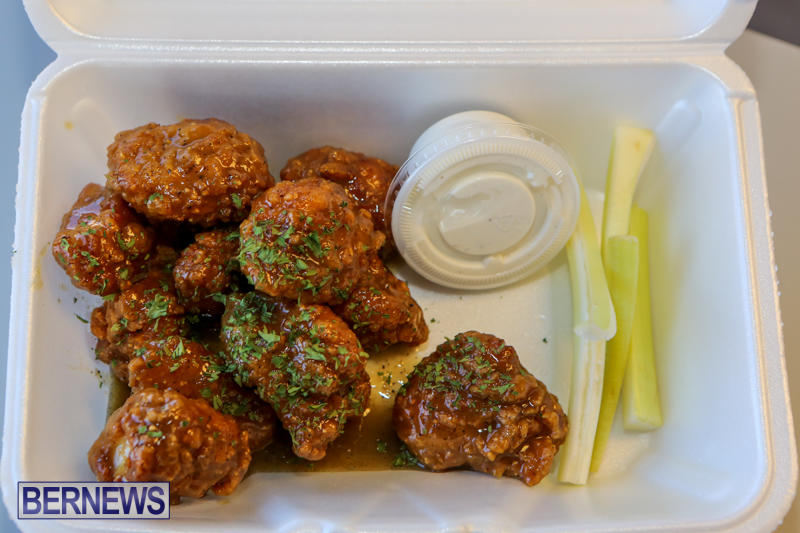 "We have boneless wings, fries, coleslaw, our famous curry chicken and mango salad, and garden salads. Soon after the grand opening, we'll start with the fish, chicken legs, macaroni and cheese, beans and rice – bringing back a lot of traditional Bermudian dishes.
"We're not doing so much of the large catering now as we're moving into the platters. The wing platters go from $50 to $200, and then we also do party platters which will feature things like boneless wings, spring rolls, meatballs. They're more for a relaxed environment, like business meetings, girls' night out, birthday parties, and that has actually been very popular."
"We're going to get the menus out soon and we'll need at least 48 hours notice for the platters."
Wild Wing Wednesday can be contacted by telephone on 292-8811, via social media on their Facebook, Twitter, and Instagram pages, or by email at dae.nightcatering@gmail.com.
Read More About