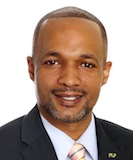 [Opinion column written by Opposition Leader Marc Bean]
In 1998, the PLP inherited a restructured education system; one based on a failed middle school concept in North America. The prior one that had served us for years had been discarded for various reasons; some good, some not so good. However, upon our election to the Government of Bermuda we had hope for Bermuda's education system.
We spent 14 years in government trying to make this flawed system work. Many Ministers, Ministry staff, teachers, and students have worked very hard under this system and while progress has been made on some fronts, we are not seeing the consistent successes that we should.
It is now time to change course.
Without a quality education and foundation, we are creating an underclass in our own country. We cannot continue down this road.
Under my leadership, the Progressive Labour Party is promising Bermuda that when returned to government there will be radical education reform. This reform will not be easy for all, but it will be based on producing successful students, both academically and socially. It makes no sense to receive A* in all one's IGCSE's if that same student is lacking in identity, historical knowledge, cultural awareness, and national pride. It is difficult to promote One Bermuda, if we have two distinct educational paths, with one largely considered as "success" and the other largely considered as "failure".
We must provide options that show success in all forms. It is unacceptable that parents should almost be required to pay 20K per year per child just to give their children a fighting chance in the adult world.
In our Throne Speech replies we have highlighted some of our plans. These ideas have been repeated in subsequent press conferences and interviews. However they are not exhaustive. We desire input from the stakeholders – the teachers, the parents, the students – as to what this new system should include.
In order for Bermudians to be equipped to compete, prepared to fully function within our economy, and avoid being marginalized in our own country, we must embark on radical education reform. This involves shaping our system so that it is more responsive, more competitive and is the first choice for educating our future generations and for retraining our people. This is our vision, but we recognize that this vision can only become a reality if you, the people are involved in the process; sharing your ideas, building understanding and working together to reach this goal.
The PLP's Education Listening Tour begins tonight at 6:30 at the Clearwater Middle School and is intended to give our people a voice in shaping the future of education in Bermuda.
Following this tour, which will make 3 stops across Bermuda, we will embody a group of Bermudians to be our Education Reform Committee, and the full plan will be compiled.
We also invite all members of the community that may not feel comfortable speaking at the meetings, or who are unable to attend, to email any suggestions to PLPEducationReform@plp.bm
- Marc Bean

20 Most Recent Opinion Columns

Opinion columns reflect the views of the writer, and not those of Bernews Ltd. To submit an Opinion Column/Letter to the Editor, please email info@bernews.com. Bernews welcomes submissions, and while there are no length restrictions, all columns must be signed by the writer's real name.
-
Read More About