The Protection of Birds Amendment Act was tabled in the House of Assembly on Friday [Feb 13], which seeks to amend the Act to define "pest bird" and expand the powers of the Minister to authorize any person to control or destroy any bird in certain cases.
The Act, as tabled in the House, lists the common crow, starling, kiskadee, house sparrow, feral pigeon and feral chickens as pest birds.
In 2012, Government estimated that there are over 30,000 feral chickens roaming the island, a number which they said was continuing to grow.
And in 2013, the Department of Conservation Services said they have culled over 7,250 feral chickens to date, saying: "While difficult, the management of feral chickens is absolutely necessary. Feral chickens are causing significant damage to farmers' crops and threatened habitats."
Map, provided by the Department in 2013, showing the area that feral chickens were culled: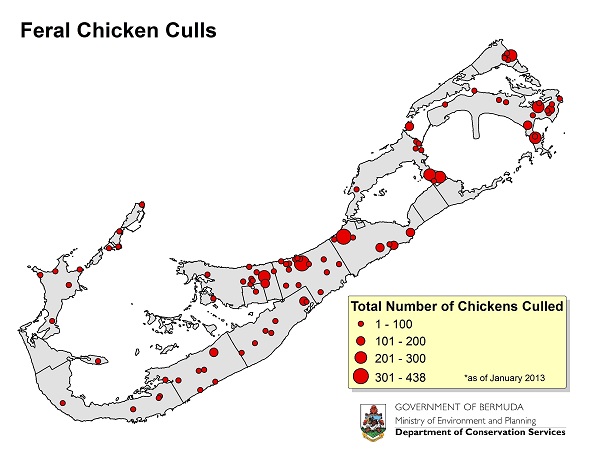 Clause 2 of the Act repeals the definition of conservation officer and inserts the definition of authorized officer which includes any person authorized by the Minister, while Clause 9 makes related amendments to clarify that a firearm may be used and that an ammunition licence may be issued in connection with Government approved and supervised pest control.
The Protection of Birds Act 2015 follows below [PDF here]:
Read More About
Category: All, Environment, News, Politics