Tomorrow's Appleby Bermuda Day Half Marathon will see the race begin in the east after 37 years of starting in the west.
The new route, which has been officially measured and certified as a half marathon, will journey out of St. George's, along North Shore Road, up Middle Road/Flatt's Hill, down Lane Hill onto Front Street and into Hamilton along the standard city route, finishing at the traditional finish line in Bernard's Park.
Outlining the full route, a spokesperson said, "The race starts at the junction of Duke of York Street and Old Maid's Lane, St. George's. Runners may use the entire road from the start to the Town of St. George's sign. From this point participants must run on the left side of the road including following the normal traffic flow at all roundabouts until Lane Hill in Hamilton."
"Proceed along Mullet Bay Road, Kindley Field Road, The Causeway, Blue Hole Hill, North Shore Road, Flatts Hill, and Middle Road. Turn left at Lane Hill. Proceed down Lane Hill to East Broadway, and Front Street to Queen Street. Proceed up Queen Street turning right onto Church Street to King Street. Turn left at King Street and proceed to Victoria Street.
"Turn left at Victoria Street and proceed to Cedar Avenue. Turn right at Cedar Avenue and proceed to Marsh Folly Road. Turn right at Marsh Folly Road and proceed to Dutton Avenue. Turn right at Dutton Avenue and follow the directions onto the field at Bernard's Park to the Finish Line."
Map of the Half Marathon running race route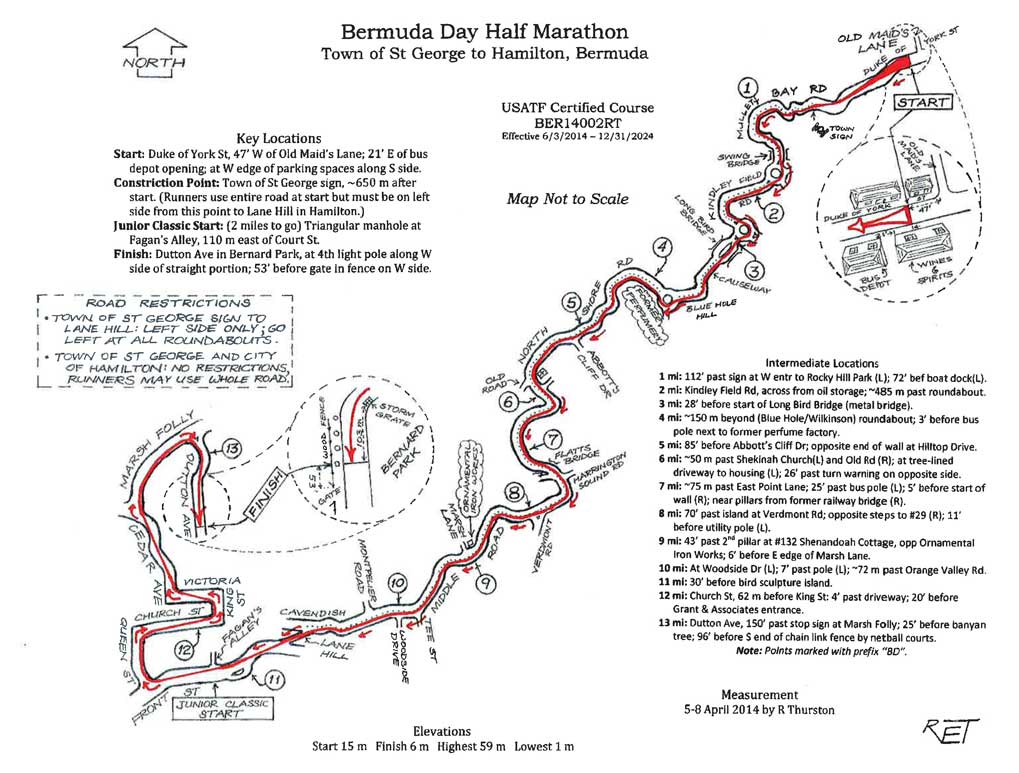 According to the official 2015 Bermuda Day programme [PDF], "The 2015 Bermuda Day Parade will begin 1:30 p.m.
"It will move along Marsh Folly Road; and continue right through to the top of Cedar Avenue. A left turn will then be made on to Church Street, followed by a right turn on to Court Street. The parade will move through Front Street and up Queen Street with dispersals following final performances at the City Hall Car Park.
"For the safety of the public, as the parade gets to the top of Queen Street, the floats will make a right turn on to Church Street, park in front of City Hall and remain there on display throughout the afternoon.
"The dance trucks, however, must make a slight left turn and then proceed along Wesley Street, unload the dancers at the performance site and move on to the back of the City via Park Road."
Map of the parade route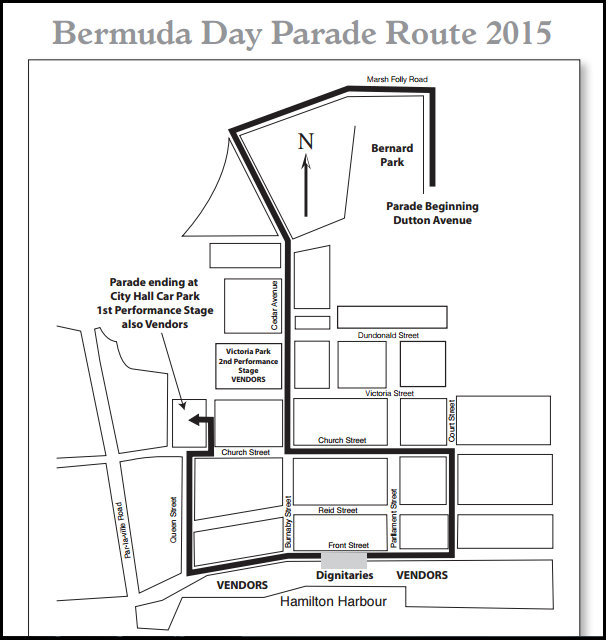 The Sinclair Packwood Memorial Cycle Race is set to start at 8:50am, the Bermuda Day Half Marathon will start at 9am and the Heritage Day parade starts at 1:30pm.
Read More About