At approximately 11:42am today [May 16] the Bermuda Fire and Rescue Service [BFRS] responded to a report of a confirmed Brush Fire in the Blue Hole Hill area.
Fire Service spokesperson, Sergeant Jamal Albuoy said, "BFRS responded to the incident with two appliances from our Clearwater Station and 6 personnel. On our arrival, an area of brush measuring approximately 20 feet by 30 feet was involved with fire.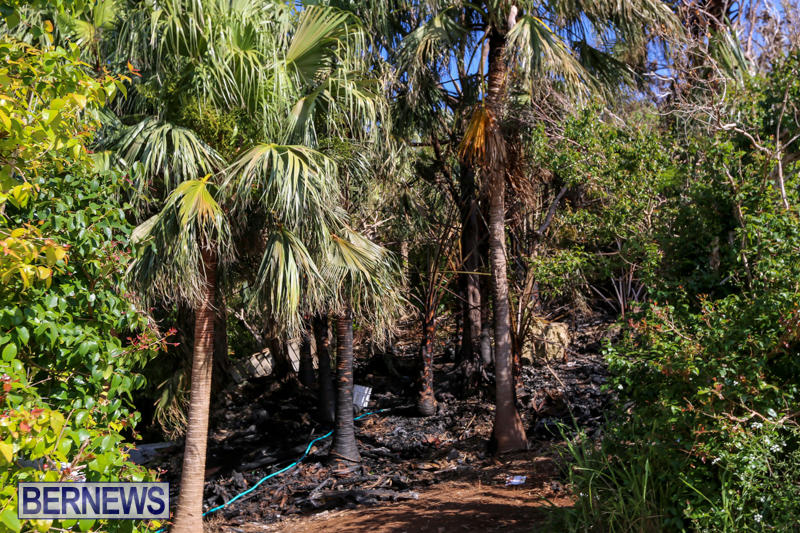 "BFRS personnel quickly brought the fire under control and subsequently extinguished the blaze. Firefighters then secured the scene by wetting down the surrounding areas. The cause of the fire was the result of a controlled burn of vegetation measuring 10 feet by 10 feet that spread to nearby vegetation and trees."
The BFRS said, "Members of the public are advised, prior to commencing controlled burns to:
Notify our Fire Dispatch at 296-7559 that you will be carrying it out.
Have a continuous and adequate water supply on hand. In addition, a sufficient smothering agent such as sand should be used as a backup.
"Once you have concluded the burn:
Wet down the area with water to ensure it is completely extinguished. Sand can then be used to cover the ambers. This will prevent any rekindling of the fire.
Notify our Fire Dispatch at 296-7559 that you have completed your burn.
"For containment purposes, controlled burns should be conducted in a 50 gallon steel drum. Vegetation should be added to the drum as it continues to burn down. In the event of an emergency, please contact 911."
Read More About
Category: Accidents and fires, All