The Argus Group today [July 17] announced its support of the Bermuda School of Music's Every Kid Can programme that is designed to teach students to play the violin. The Argus' donation has helped to support the purchase of violins for the programme.
The Every Kid Can programme currently has a total of 35 violins, including some that students can take home to practice. Violin courses take place during the school day and, depending on the age of the student, classes are offered between one and three times per week.
The Every Kid Can programme is currently available to Victor Scott Primary School students in P1 through P5. In 2012, Every Kid Can started expanding at Victor Scott Primary School by adding a new class each year.
Next year, Bermuda School of Music will extend the programme further to include P6 students so that every student at Victor Scott School will have the opportunity to participate in violin classes. Bermuda School of Music also plans to develop the programme in other public schools in which they are currently teaching.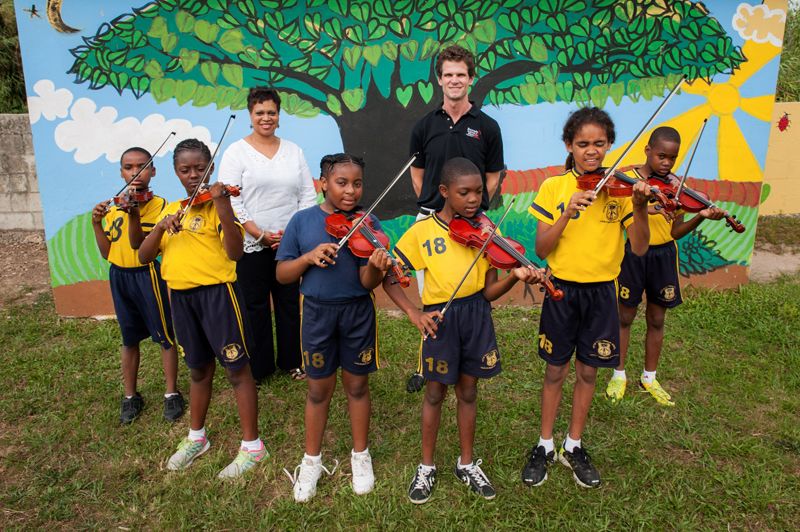 In May, select P5 students at Victor Scott sat for The Royal Conservatory of Music [RCM] exam that is aimed at testing their knowledge of the violin. RCM is a well-regarded music education institution that sets educational standards and performance training assessments.
The RCM exam gave the students a goal to work towards and tested their ability to play scales, etudes and songs. Every student who took the exam passed and next year the remaining students in P6 will also sit the RCM Preparatory Exam.
Chas Arnold, Director of Strings at the Bermuda School of Music, says: "We would like to thank Argus for their donation which has allowed us to continue to grow our Every Kid Can programme.
"Argus has helped us to purchase enough violins to offer our classes to a growing number of students and also to allow our older students to take instruments home for additional practice time. When learning an instrument, follow up is important.
"Being able to continuously offer courses to students through primary school allows the lessons taught in one year to be honed and expanded in the next year."
Lauren Bell, Executive Vice President of Life & Pensions at the Argus Group, says: "Argus is a big supporter of education and we are pleased to support Bermuda School of Music in their mission to teach students to play the violin.
"Learning to master an instrument gives students a sense of accomplishment that is important for children and helps to develop self-confidence at a young age. We look forward to seeing the Every Kid Can programme grow and the students blossom in their playing proficiency."
For more information about The Bermuda School of Music, visit www.musicschool.bm.
Read More About
Category: All