The Pembroke Rotary Club [PRC] donated 50 backpacks filled with school supplies to the Bermuda Foster Parents' Association.
The Club worked with the Department of Child and Family Services to identify Bermudian children who are in foster care and who have a need for back to school supplies.
The children are at all school levels – Primary, Middle and Secondary school – and the backpacks contain supplies including binders, notebook paper, rulers, pens and pencils, a water bottle, granola bars, dental care products as well as other age appropriate products.
Left to right: Joe DaSilveira [PRC], Antoinette Simmons [Foster Parent's Association], Chris Williams [President, PRC], Selina Simons [Child and Family Services], Joelina Redden [PRC] and Lisa Wagner [PRC].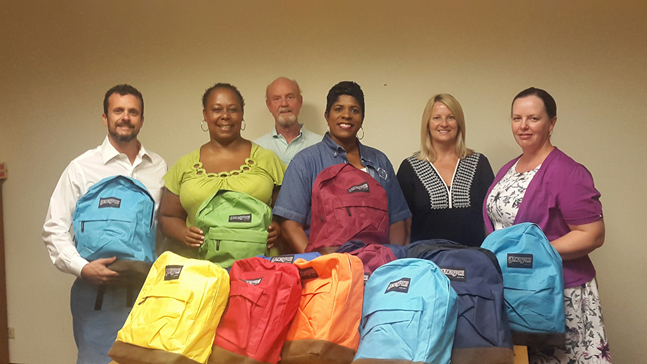 Pembroke Rotary Club said they would like to thank Butterfield and Vallis, AF Smith, the Phoenix and Smiles Inc for donating supplies or providing the Club with discounts on the purchase of supplies.
Mrs. Antoinette Simmons, the Treasurer of the Foster Parents' Association accepted the backpacks on behalf of the children and their foster parents.
Mrs Simmons thanked the Club for their contribution and assured members that the backpacks and the supplies would make the process of getting ready to go back to school easier for everyone.

Read More About