There are six teams racing in this weekend's Louis Vuitton America's Cup World Series. They are racing to earn cumulative points for the overall two-year World Series competition and also to win the Bermuda event.
The race course is made up of a start line, finish line and turning marks. It is also defined by an electronic boundary, for which the boats are equipped with sensors to detect. Visually the racecourse is defined by a series of Official Stakeboats flying red stakeboat flags.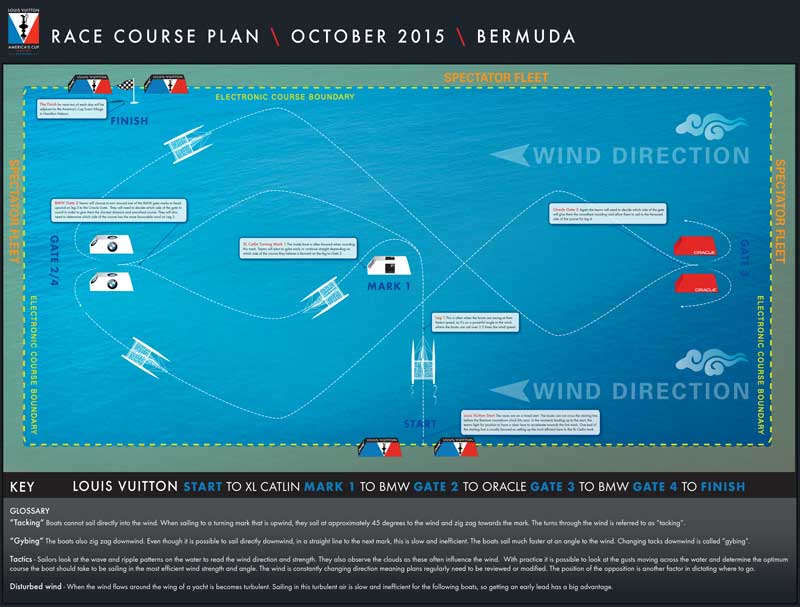 The Start: The start of the race is a countdown for which the race boats must stay behind the starting line while they jockey for the best position as it relates to the other boats and the wind.
Strategy: The boats cannot sail straight into the wind nor is it beneficial to sail with the wind directly behind the boat. Therefore the boats crisscross the racecourse looking for the best wind conditions [speed and angle] whilst also protecting their position against the other boats. There are rules governing right of way and rounding the turning marks. It is up to the on-course umpires [in the pink Bermuda boat] to determine any infractions and issue penalties, which see the offending boat slow down for a pre-determined amount of time.
Gates: The gates determine the length of the racecourse and are positioned at either end of the racecourse. Each time a boat passes through the gate they complete a 'leg'. The number of legs in a race is determined before each race by the Race Director and is dictated by the wind speed. The goal is for the race to be completed in approximately 25 minutes.
The Finish: The first boat across the finish line wins the race. Final points are determined by each team's finishing position in the races, so teams will continue to battle until they cross the line.
Points: There are two races scheduled on each of Saturday and Sunday. Point scoring in the races on Saturday is as follows: 10 points for first, 9 points for second, etc… On Sunday the races are worth double points.
The Louis Vuitton America's Cup World Series Standings to date:
Emirates Team New Zealand – 72
Land Rover BAR – 65
Oracle Team USA – 64
SoftBank Team Japan – 56
Artemis Racing – 53
Groupama Team France – 50

Read More About