News that author Jonathan Smith donated book certificates to public school libraries, golf pro Daniel Augustus was awarded a $16,500 sponsorship, James Stout retained his Rackets World Champion title, the Museum Playhouse opened at the National Museum, and two new businesses — "Lifestyles" and "Sprinkles" — held their grand openings were some of the positive news stories this week.
Additional good news included cancer survivor Giovanna Watson aiming to assist cancer patients by telling her story, Delray Rawlins and Marcus Scotland being selected for cricket squads in the UK, Justin Donawa scoring his second goal of the season for the Dartmouth College men's soccer team, and the premiere of the Berkeley Institute Class of '63′s film 'Respice Finem: The History of the Berkeley Institute.'
In other good news, Reggie Lambe scored for Mansfield Town, Ebony Magazine published an article teaching readers how to 'ditch the winter blues in Bermuda,' Clarien Bank launched its 'Give Back Programme,' CedarBridge Academy's 'I Am A Writer' program will celebrate 17 students, the City of Hamilton donated $5,000 toward the Christmas Boat Parade, and Berkeley Institute instituting a new honours programme.
We also posted various community photo galleries, including coverage of the motocross racing season kicking off, Saltus 'Dress Like Your Favourite Teacher', Plein Air Art Festival, Inwood Hunter equestrian show, Farmers Market, shoppers out at Black Friday, a UK magazine's feature on Bermudian model Lillian Lightbourn, the School Debate Tournament and the Lighting of the Town in St George's.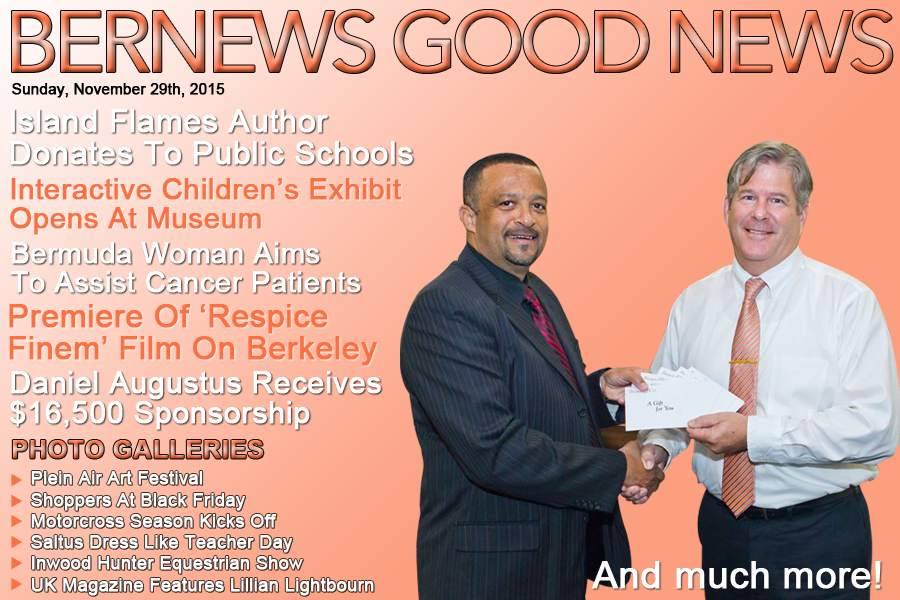 In an effort to highlight some of positive news happening in our community, we supplement our standard morning and evening email newsletters with a special Sunday "Good News" email newsletter edition, which strictly focuses on the positive news from the past week.
You can sign up to have the free newsletter delivered via email here, and/or access the links below. In addition, for those who like positive news, please feel free to visit our sister site ForeverBermuda.com, which seeks to showcase the best of Bermuda as well as provide information and listings for visitor related services.
Links to some of the 'good news' from the past week are below:
Read More About