News that ten new apprentices started at Digicel and BTC, Bermuda's Ceci Wollmann qualified for the 2016 Rio Olympic Games during the Sailing World Cup in Miami, and AXIS Capital signed on as a major sponsor for this year's Ag Show were all some of the positive news stories from the past week.
In other good news, Holy Trinity Church donated $1,500 to Age Concern, Gary Phillips and Cummings Zuill were inducted into the Company of Honorary Fellows, and Horseshoe Bay Beach was named on a "Best Beaches to Escape to this Winter" list.
Additional good news stories included Orange Bay Company donating $5,000 to Bermuda Cancer and Health Centre, equestrian Philip Correia being invited to compete in the 2016 FEI World Jumping Finals in Morocco, the Bermuda Sloop Foundation receiving a 'Vessel Operator of the Year' award, and athlete Jessica Lewis being named Bermuda's 'most fascinating person of 2015.'
We also posted various community photo galleries, including coverage of BASA's 'Best of the Best' swim meet, ladies field hockey action, and Bermuda College's "Live, Love, Eat" presentation and Science Week activities.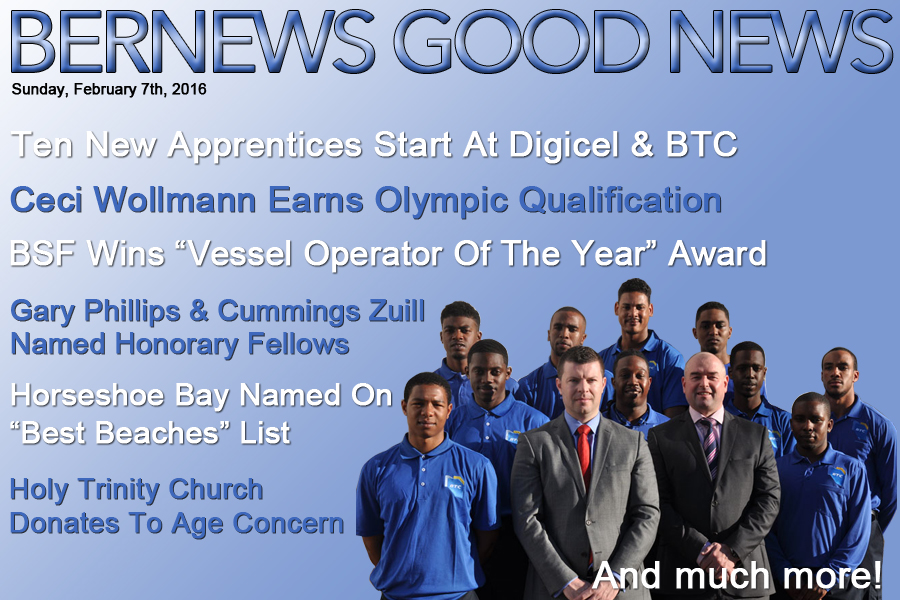 In an effort to highlight some of positive news happening in our community, we supplement our standard morning and evening email newsletters with a special Sunday "Good News" email newsletter edition, which strictly focuses on the positive news from the past week.
You can sign up to have the free newsletter delivered via email here, and/or access the links below. In addition, for those who like positive news, please feel free to visit our sister site ForeverBermuda.com, which seeks to showcase the best of Bermuda as well as provide information and listings for visitor related services.
Links to some of the 'good news' from the past week are below:
Read More About