The Government's Project RIDE — the mandatory programme which introduces teenagers to the rules of the road — has received a significant boost from Bermuda Motors through the donation of a dozen new motorbikes to be used during the practical training and examination process.
Newly-appointed Bermuda Road Safety Council Chairperson Erica Rance Mill said she deeply appreciated the gift from the vehicle dealer, and expressed thanks to Ms Roxanne Christopher for facilitating the donation, which replaces a fleet of old bikes used in the programme.
She noted, "A mechanic at Bermuda Motors has also offered to service the bikes, going forward. This generosity shows me that Bermuda Motors is committed in its support of the island's youth and to the Project Ride Programme. These bikes will become valuable resources as we prepare new riders for the privilege of operating motor bikes on Bermuda roads."
Road Safety Officer David Minors with former Road Safety Officer Roxanne Christopher and Bermuda Road Safety Council Chair Erica Rance Mill at the Transport Control Department with some of the new motor bikes donated to the Project Ride programme by Bermuda Motors.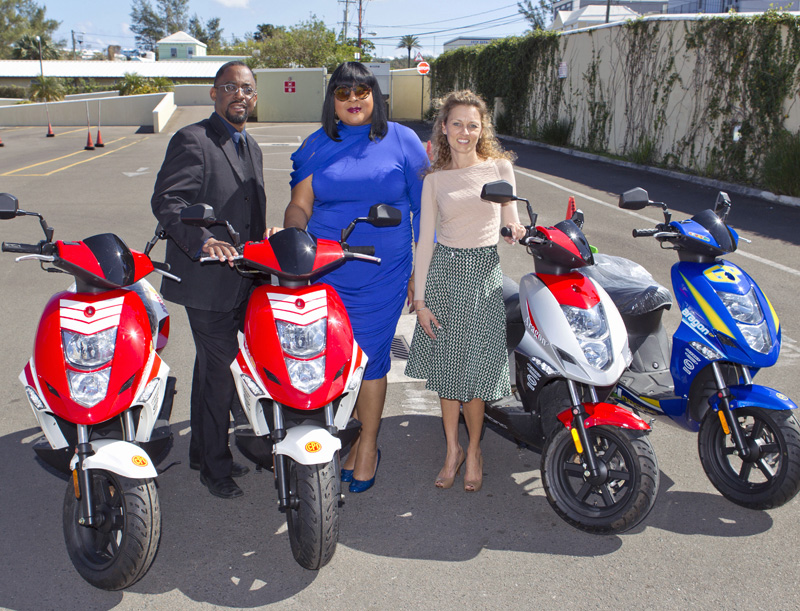 The 12-hour Project RIDE programme includes road safety education and practical demonstrations in controlling the vehicle.
Road Safety Officer David Minors said, "The programme caters to 550 to 600 young people a year. They are usually 15 years and six months old, or nearing 16 to participate in the programme, which includes both a written and practical examination before qualifying for their licence at 16.
"To obtain a Bermuda Youth licence, applicants must complete the Project RIDE programme. These bikes are used in the practical exam, and during training, providing the new riders with basic instruction on how to operate the vehicles safely."
Former Road Safety Officer Roxanne Christopher approached Bermuda Motors because of their consistent support for Project RIDE in the past.
She said, "There was concern about budgetary constraints for this programme, and I wanted to help with a solution that would enable Bermuda's young people to complete the programme.
"I reached out to Michael Butler, General Manager of Bermuda Motors, and within 24 hours he got back to me and they have supplied twelve new bikes for training purposes.
"That just reveals the company as a great corporate citizen. They didn't hesitate to help and has long been a great supporter of the Project RIDE programme."
Read More About