In the fourth in a series of profiles of the young men competing in this year's Alpha Beautillion, we spotlight Warwick Academy student Théo Raphaël Wolffe.
His profile, courtesy of the Alphas, says: "On the 29th of September 1999, Théo Raphaël Wolffe was born to Juan Philip Wolffe and Francoise Palau-Wolffe on the beautiful island of Bermuda.
"He considers himself lucky to have been brought up in two different cultures and speaking two languages [French and English]. Thanks to his background, he believes that he has a deeper understanding and appreciation for diversity.
"Théo has attended Warwick Academy for the past 12 years and is grateful for the guidance that the school has provided to him. Currently, he is studying Chemistry, Business and Management, and Physics at higher level and Math, English and Spanish at standard level in the International Baccalaureate Diploma program.
"Although this is a rigorous program, Théo has managed to flourish and exceed expectations receiving Principals List Honours for six consecutive years, and attaining the International Baccalaureate Scholarship for his impressive GCSE results.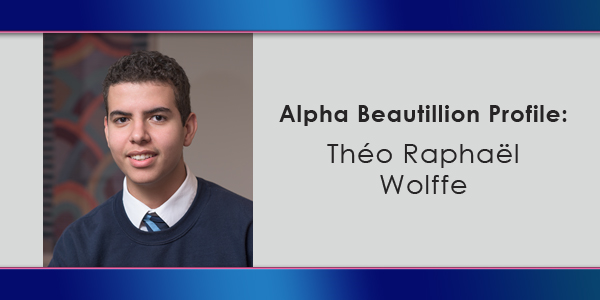 "Throughout his years at Warwick Academy, he has shown exemplary leadership skills. He was selected to be a Senior Prefect, a highly respected role within the student body, and also served as Student Council Representative of his year group for the past six years. However, his successful achievements are not limited to his curricular attainments.
"Representing Warwick Academy outside of school is something that Théo is no stranger to. He has been committed to multiple extracurricular events that have given him crucial leadership and public speaking skills.
"These occasions are not limited to his continued contribution as a saxophone leader to the Warwick Academy Jazz Band, but they encompass a wide range of activities.
"Being the sole Warwick Academy representative at the Youth Parliament, serving as Sergeant-at-Arms and Youth Minister of Education, he participated in Parliamentary procedures and attended the Annual Convening of Parliament.
"Moreover, he was selected to shadow the Premier of Bermuda and wrote an article in the Royal Gazette about his experience to not only inform the public, but also to sustain the prestigious name he has made for himself. During a recent trip to China for the Global Young Leaders Conference, he was nominated mediator of a Youth Summit because of his natural diplomatic skills.
"Théo hopes to attend University in Canada and pursue a Bachelor of Science and Masters in Business Administration to fulfil his dream of becoming an entrepreneur. Opening a successful business in Bermuda is on his agenda, as he wants to give back to the country that brought him up into the well-rounded young man he is today.
"Upon being asked to give advice to Bermudian youth, he stated that he encourages them to not be afraid to seize the different opportunities that come their way as they can never know what amazing things can be in store for them and mould themselves into the person they wish to become."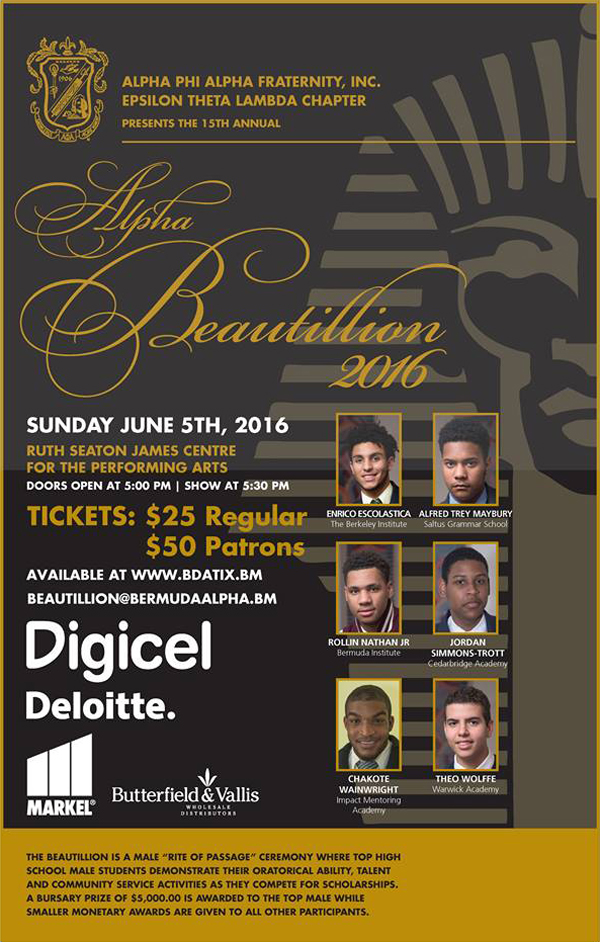 The Alpha Beautillion is a "Rite of Passage" Ceremony where top high school male students demonstrate their oratorical ability, talent, and community service activities as they compete for scholarships, with a bursary prize of $5,000 is awarded to the top male and smaller monetary awards given to all other participants.
The 15th Annual Alpha Beautillion will be held on Sunday June 5th at the Ruth Seaton James Auditorium, with regular tickets costing $25 and patron tickets costing $50.
Tickets are available at bdatix.bm, and for more information please email beautillion@bermudaalpha.bm. For all our coverage of the Alpha Beautillion click here.
Read More About