[Opinion column written by Gregory Francis]
Being There for Brexit
Bermuda's Premier is in the dark about Brexit. So is the UK PM in many respects. But the challenge that Premier Dunkley faces, like all past heads of government, is how to stay informed so that events in London don't take you by surprise.
As Bermuda decides just what it wants from Brexit – it would be wrong to waste such a colossal crisis – it is important to understand what is at stake, what outcomes are possible, and what stands in the way.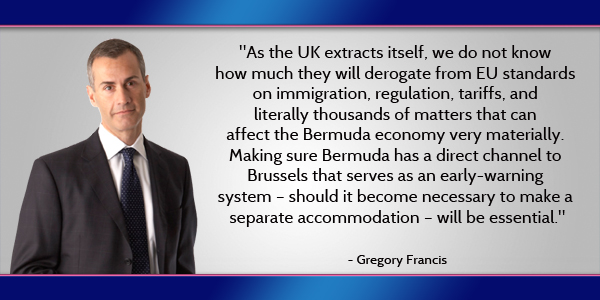 Calls Go Straight to Voicemail?
Successive Bermuda governments and their civil servants have all had their challenges with Whitehall, and know that the UK dedicates little resource to its overseas territories. Interaction with the OTs is limited, and the Foreign and Commonwealth Office's working assumption is that it's enough to have a Bermuda desk to manage the few matters that an effective self-governing territory might raise.
But if it is hard for Bermuda to get answers out of Whitehall in normal times, what happens now that the FCO has been divided into three [slightly competing] departments? Worse, these departments still need to come up with the manpower to re-negotiate the UK's place in the world.
The answer is that the Government in London is already at minimum staff levels, and now has to go to the market to find the trade negotiators, project managers, and consultants they lack for the Big Unwinding from Europe. In the coming years there will be even less time for the likes of Bermuda.
So Don't Use the Phone
That means Bermuda is going to have to try doubly hard to keep itself informed about the UK's plans for managing the Big Unwinding. This will require extra cunning, using the Friends-of-Bermuda network within Westminster, Brussels and Washington to know what's on the negotiating table and what might affect the island.
It will require Bermuda's representatives to find their inner New Yorker, and push past the polite hand-waving of weary Whitehall mandarins to get a look inside the tent. In this, Bermuda could make common cause with other OTs – Gibraltar will certainly be pushing its way to the front of that queue – but not exclusively, since the various OTs get different things out of the EU. Such differences are likely to diverge even more from now on.
What Bermuda Wants
Bermuda is not part of the EU, but it has a formal relationship with the bloc through the agreement governing the EU's relationship with "Overseas Countries and Territories," an arrangement that serves it well and could serve it even better.
The relationship is generous in nature. It gives Bermuda the option of participating in freedom of movement within the EU, freedom of corporate establishment, and funding under programmes in the EU's general budget that support research, education, innovation and competitiveness, culture and media, etc.
Moreover, the relationship works towards improving trade arrangements, enhancing participants' competitiveness, "strengthening resilience" [Fabian? Fay?], reducing economic and environmental vulnerability and promoting cooperation between Bermuda and the other partners. In economies the size of Bermuda's these aspects can, if applied properly, shift the needle towards growth.
The most important outcomes Bermuda will want from the coming chaos is a new, more direct relationship to the European Union. This is because Bermuda will want to continue to serve, and buy from, markets in that bloc.
As the UK extracts itself, we do not know how much they will derogate from EU standards on immigration, regulation, tariffs, and literally thousands of matters that can affect the Bermuda economy very materially. Making sure Bermuda has a direct channel to Brussels that serves as an early-warning system – should it become necessary to make a separate accommodation – will be essential.
What to Look Out For
As the UK charts a more bilateralist course for itself it is likely to make up for its rejection of the EU by becoming a disproportionately Big Voice in other multilateral organisations: look for a more vocal UK in the UN, NATO, the OECD and the Commonwealth.
On the face of it this may be useful since the UK represents Bermuda in these forums. But what if the UK says the wrong things? What if, as it tries to mollify its shaken business community and stimulate trade and investment, it tries to use these forums to spruce itself up and, in the process, one-up Bermuda?
It has already pushed Bermuda unsportingly hard in matters of corporate governance, but now shows signs of behaving very much like an off-shore jurisdiction itself. It even looks set to take a page out of Bermuda's playbook by moving towards lower tax rates to attract key industries, cherry-picking the talent it allows to remain, and adjusting long-standing regulation. Some of that may happen at the expense of the OTs.
Sea Venture 2.0
The UK government has a lot of work ahead, and it's patience for Bermuda will be short. As the metropolitan country forges a new place for itself in the world economy, Bermuda may be forced to do the same. The best way of making sure the island gets left behind will be to wait for a briefing from London that will come, if it comes, only too late.
The Dunkley Government should not wait for it. Bermudians know well how to handle the chaos of a shipwreck: you steer clear of the rocks, dodge the sharks you can see, keep your cool, say a prayer, and quietly but determinedly make your own way to shore.
- Gregory Francis, Managing Director of the UK-based Public Affairs company Access Partnership

20 Most Recent Opinion Columns

Opinion columns reflect the views of the writer, and not those of Bernews Ltd. To submit an Opinion Column/Letter to the Editor, please email info@bernews.com. Bernews welcomes submissions, and while there are no length restrictions, all columns must be signed by the writer's real name.
-

Read More About