[Opinion column written by MP Jamahl Simmons]
Across the island, there is a growing sense that something is deeply wrong in Bermuda. For too many of us the economy isn't working for us. Many of us have come to the realization that the people we elected to government have spent more time looking down on us than standing strong for us.
Our people are beginning to ask, "When will our issues matter?"
This growing sense that Bermuda isn't working for Bermudians has worsened the divisions that separate us and hindered our ability to come together to build a fairer, more inclusive Bermuda.
When the quality of our children's education is determined more by their parents' income than on a child's intellect and work ethic, that extends the divide.
When job opportunities are determined more by who you know than what you know, that extends the divide.
When the only group experiencing job growth is everyone but Bermudians, that extends the divide.
Bermudians understand all of this. They also understand that OBA attacks on the PLP have so far failed to produce jobs and opportunities for Bermudians.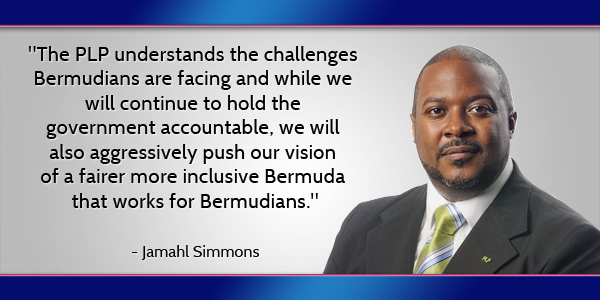 The father who hasn't worked in two years doesn't care about what the OBA thinks about the PLP. Our Bermudian fathers want to know when the 2000 jobs they were promised will be delivered.
The mother who has been forced to skip meals just to keep her children fed, doesn't care about what the OBA thinks about the PLP. Our Bermudian mothers want to know when their hard work and sacrifice will move their family out of poverty.
The PLP's focus is on building a Bermuda where:
Our government invests in US, training and retraining Bermudians to fill jobs and opportunities at every level at the economy and not just at the bottom.
Our immigration laws work for US, protecting Bermudian jobs and opportunities.
Our economy works for US, so that any Bermudian willing to work hard and sacrifice has an opportunity to work, build wealth and eventually buy a piece of the rock.
Our schools work for US, building 21st century entrepreneurs and a world class workforce.
The OBA has a choice; spend what little time they have left continuing to focus on and demonize the PLP or get on with the job they were elected to do – create jobs for Bermudians.
We hope that they are hearing what we are hearing; their current approach isn't working and isn't focused on what is really important; helping our people.
The PLP understands the challenges Bermudians are facing and while we will continue to hold the government accountable, we will also aggressively push our vision of a fairer more inclusive Bermuda that works for Bermudians.
- Jamahl Simmons

20 Most Recent Opinion Columns

Opinion columns reflect the views of the writer, and not those of Bernews Ltd. To submit an Opinion Column/Letter to the Editor, please email info@bernews.com. Bernews welcomes submissions, and while there are no length restrictions, all columns must be signed by the writer's real name.
-
Read More About
Category: All