The Bermuda Environmental Sustainability Taskforce [BEST] released their 'Wish List' for the upcoming Throne Speech touching on climate change, protecting bees, land use, marine planning legislation, noise pollution, Southlands and more.
BEST said, "The issue of Climate Change is ripe for serious attention in Bermuda. We would be justified in expecting that the Climate Change Task Force set up by the Government would have proposed practical steps for the public to either play our part in reducing contributions to climate change and/or in preparing our island for the likely consequences of it.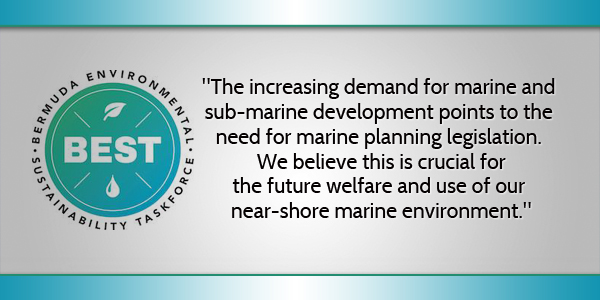 "Our hope is that this Throne Speech will introduce a Climate Change Act that will set clear targets for reducing greenhouse gas emissions, increasing the role of renewable energy and preparing our infrastructure for the effect of climate change.
"Small island states like Bermuda are at the leading edge of the climate crisis, and we would do ourselves a favour by facing this reality, and including public consultation and input on the topic.
"We also look forward to this Throne Speech including commitments to protecting bees in Bermuda and enhancing their wellbeing. We would hope to see better controls on the local availability and use of pesticides, especially by largely under-informed home gardeners to reduce the threats by these chemicals to bees and human health.
"From a land use perspective, we believe the planning legislation needs to evolve to ensure environmental impact assessments and sustainability impact assessments, or their equivalents, are mandatory for all developments. Bermuda's density of population and development demand that we give more attention to the localised and overall impact of development now and into the future.
"The increasing demand for marine and sub-marine development points to the need for marine planning legislation. We believe this is crucial for the future welfare and use of our near-shore marine environment. BEST hopes this Throne Speech revives the development of a near-shore marine spatial planning policy.
"From a tourism perspective we continue to have concerns that the Bermuda Tourism Authority [BTA] risks development creep in the privatisation and development of public spaces, particularly beaches – and in so doing risks undermining previous commitments for sustainable tourism.
"BEST can support the BTA's development focus being unleashed on five public beaches, provided the promised pristine status of the remainder is retained. However, we have observed extensions beyond these, which have caused us concern, noticeably at Admiralty House Park where locals, toddlers to adults, have been nudged aside. We would like to see the 2016 Throne Speech intensify the support for a sustainable tourism strategy for Bermuda.
"One aspect of pollution that BEST believes has apparently been abandoned or sidelined over time has been that of noise pollution. We know that noise pollution can not only destroy a Bermuda ambience and image that is central to tourism, but also will also trigger very real mental and physical health issues. We would be delighted to see this form of pollution addressed in this year's Speech from the Throne.
"Finally, we remain hopeful that Southlands will finally be made a national park. We have had years of promises. We hope that the 2016 Throne Speech will signal this promise kept."

Read More About
Category: All, Environment, News, Politics