[Written by Mikaela Ian Pearman]
Restaurant Weeks officially started in Bermuda on Thursday and I, the food lover, was incredibly excited. With 51 restaurants participating, where would I start and how would I make the decision on where to start?
After perusing countless menus, my fiancé and I thought it would be wise to start at The Waterlot Inn at the Fairmont Southampton. I mean, really, it was a no brainer – for an outstanding meal with top notch service, one goes to Waterlot.
The three-course dinner was in the $52 category, which is a steal at a fine dining establishment such as Waterlot.
I started with French Onion Soup, a steakhouse classic. Waterlot's version is on a the salty side rather than sweet which is normally typical of a soup made of caramelized onion.
It was topped with bread covered with a gratinated three-cheese blend.The soup was savoury, salty, creamy from the cheese and light all at the same time. It was a delightful start to the meal.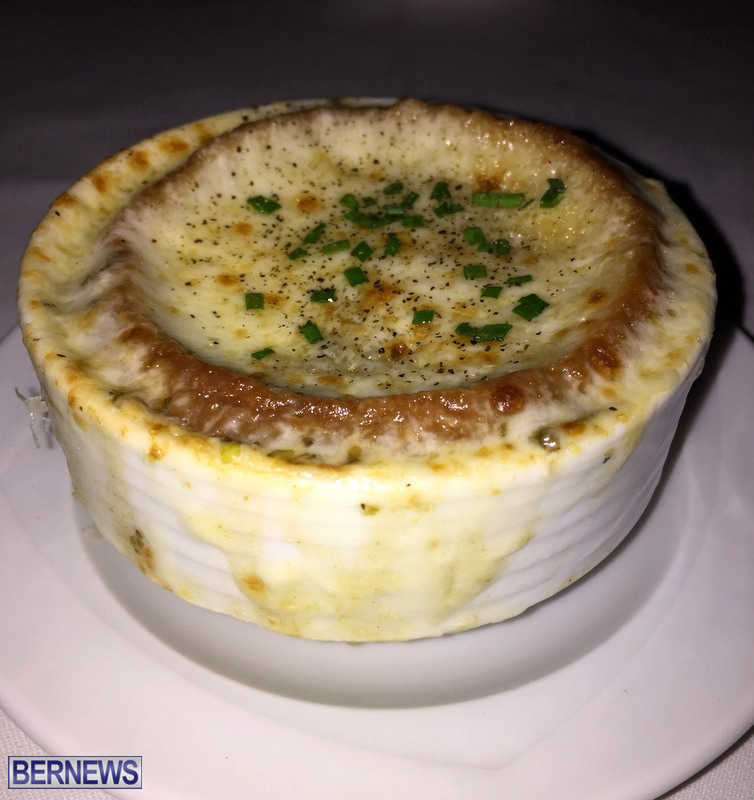 For my main, I decided to switch things up a bit. I always order the petite fillet at Waterlot because it's decadent. This time, I decided to try the veggie option to see if it was up to par with the meat offerings.
The dish was a Bermuda Onion Tart with goat cheese, cherry tomatoes and mixed greens on top. The onions were caramelized so they had a sweet but earthy flavour. The creamy goat cheese complemented the richness of the onions and the flaky pastry.
I didn't care for the amount of greens on top as I would've preferred more of a garnish than a whole salad. However, the freshness and crunch of the greens cut through the decadence of the tart. I would order this meal again as it was mouth-watering and a great option for vegetarians and meat eaters.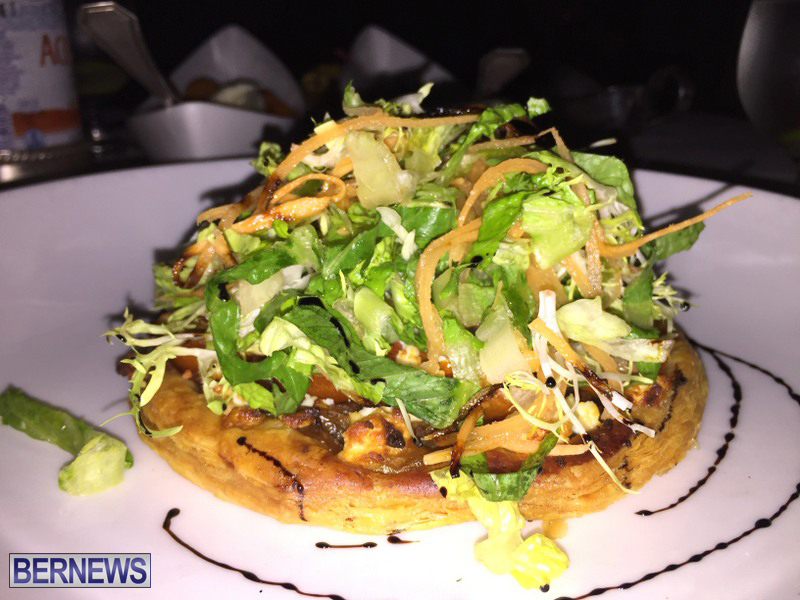 The sides were glazed carrots – delicious, mashed potatoes – creamy and rich, asparagus with hollandaise – perfectly crisp and truffle Mac and cheese – gooey, cheesy goodness.
My fiancé had pan seared grouper with mango salsa for his main. It was cooked perfectly and the salsa added a fresh, sweet element to the fish.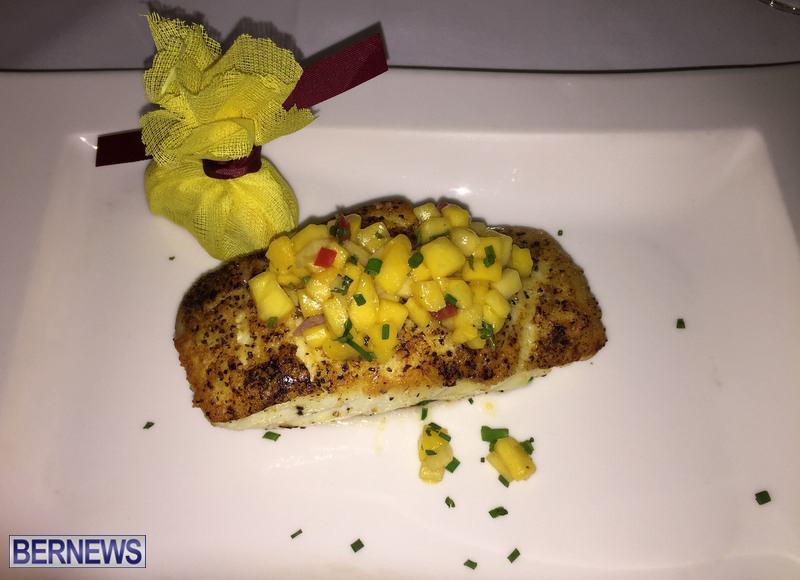 For dessert, I had the classic sticky toffee pudding with vanilla ice cream and my fiancé had the apple galette with bourbon pecan ice cream.
The pudding was warm, sweet and satisfying while the tart was on the savoury side in a good way with just the right amount of ice cream.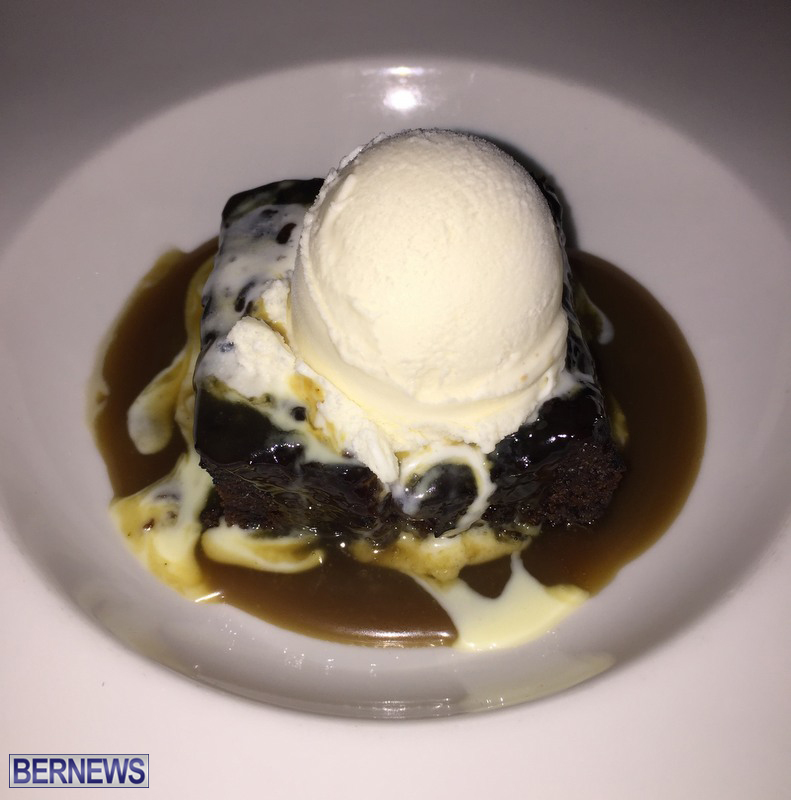 Overall, the meal was incredible, as usual. Waterlot is known for its fabulous food and service. Hilary took care of us for the night and was always on hand if we needed anything. Maitre'D Michael McGuire and his team do a wonderful job.
I would encourage everyone to make Waterlot a priority during Restaurant Weeks. It's not everyday you can have a three-course dinner at a famed restaurant for $52!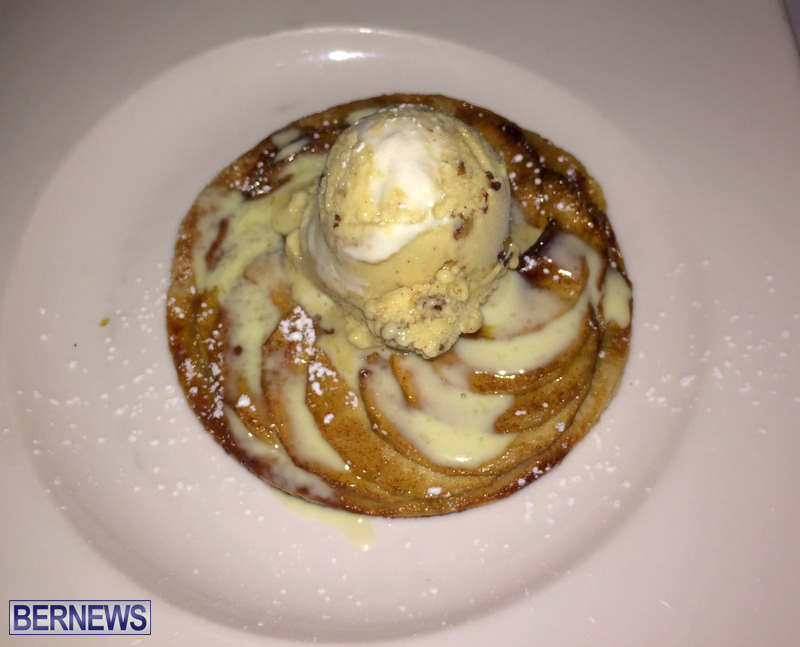 This year's Restaurant Weeks runs from January 12 to February 3, with the largest number of participating restaurants ever – 50 – and the introduction of lunch, which is being offered as two-courses for $22. The three levels of pricing for this year's event are $32, $42 and $52.
We will have additional coverage as Restaurant Weeks continues, and you can view all our coverage of Restaurant Weeks here, the list of participating restaurants/prices here [PDF], and all coverage of cuisine here.

Read More About
Category: All, Entertainment, News