[Updated with video] The Royal Bermuda Regiment's second-ever all-volunteer Recruit Camp began this morning [Jan 15], with 60 new recruits entering the gates of Warwick Camp to begin two weeks of training.
One of their first lessons was a demonstration on South Shore of pyrotechnic training aids and the firepower the RBR armoury can muster.
An RBR instructor demonstrates a flare for new soldiers on the first day of Recruit Camp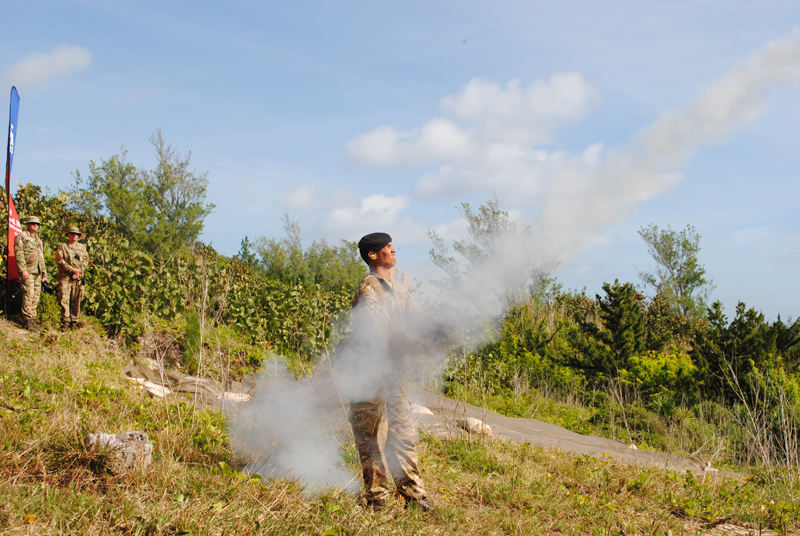 Lindley Scott, 29, operations supervisor at airport specialist caterer Goddard Catering, said he signed up to boost his resume and for the chance to serve as part of the security team for the America's Cup.
Private Scott added: "I joined for a personal reference for myself and to help me in the future.
"It's starting to feel a bit real – it's going to be a long two weeks. But I will get personal health and more self-discipline. My goals have been set and I'm looking forward to the America's Cup and overseas trips."
Minister for National Security Senator Jeff Baron chats with RBR CO Lt Col David Curley after he mingled with troops waiting to enter the gates of Warwick Camp to start their training.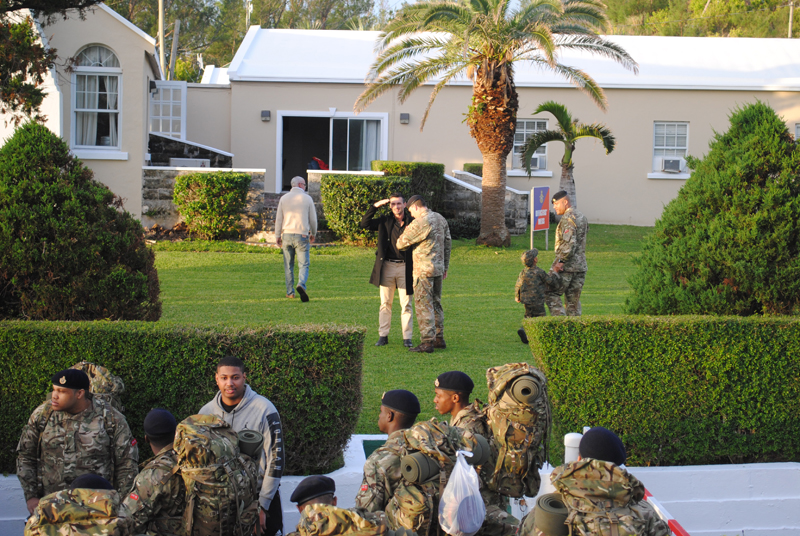 Fellow member of 8 Platoon, 19-year-old Kyle DeRoza added: "I'm feeling good. I'm looking forward to the running, but I joined to get a better understanding of the Regiment and to become a man.
The Bermuda College computing student at Bermuda College, from Warwick, said: "I'm aiming to join the Regimental Police and do the Junior Non-Commissioned Officer Cadre – I think I'm going to enjoy the Regiment."
Patricia Alexander, the Sergeant in charge of 7 Platoon, added: "They seem very motivated and want to be here. It's going to be a pretty good camp."
New recruits line up at the gates of Warwick Camp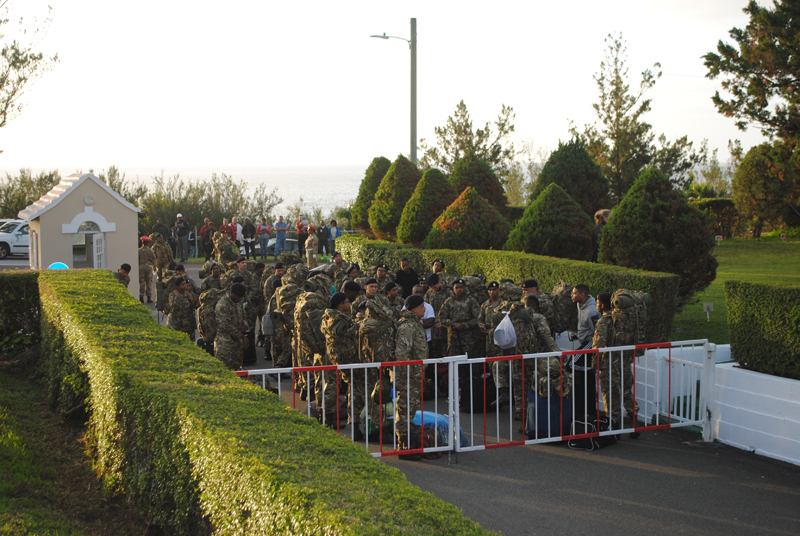 Steffan Adderley, 25, who works for Menzies Aviation at the airport, said he hoped to use RBR training as a springboard to a career as a professional soldier in the UK.
He added: "I'm looking forward to pushing myself – making myself a better man, I guess. I have hopes of joining the Royal Marines in England and thought it'd be good to do this for a couple of years."
Taylor Eve, 25, said: "I joined for the adventure and to meet new people. It's something new – I'm very nervous, but looking forward to it.
Corporal Michael Cann [centre] an instructor with 8 Platoon for the RBR's Recruit Camp, with new soldiers Kyle DeRoza [left] and Lindley Scott.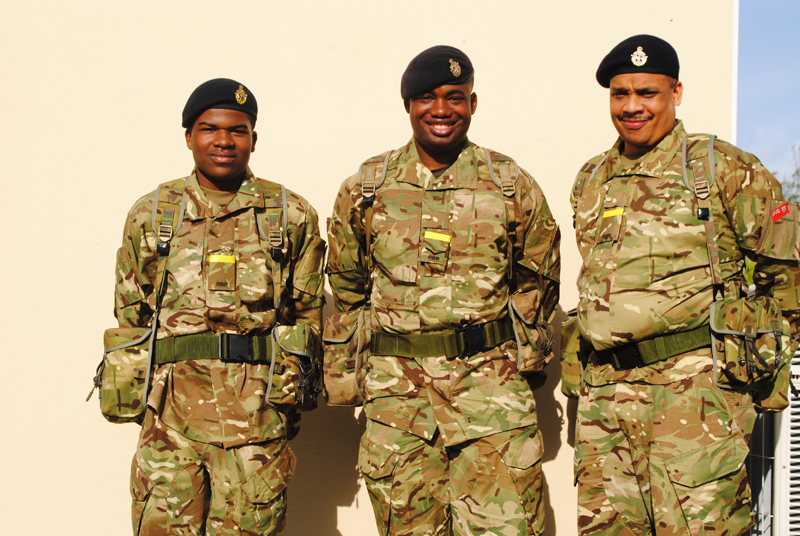 The 25-year-old charities administrator from Warwick, added: "I think I'll enjoy the assault course and just networking with everybody and getting to know different personalities. It's about self-development and hopefully pushing myself harder."
Lieutenant Colonel David Curley, new RBR Commanding Officer and in charge of his first Recruit Camp, explained that, while the RBR offered opportunities for personal development and fitness, it should be fun and exciting as well.
Col Curley said: "I'm very optimistic about the calibre of people we have seen this year. We have made enormous efforts to get across that the Regiment is not just worthwhile and character-building, but enjoyable as well.
New soldiers Taylor Eve and Steffan Adderley settle into life as trainees in the RBR's 8 Platoon.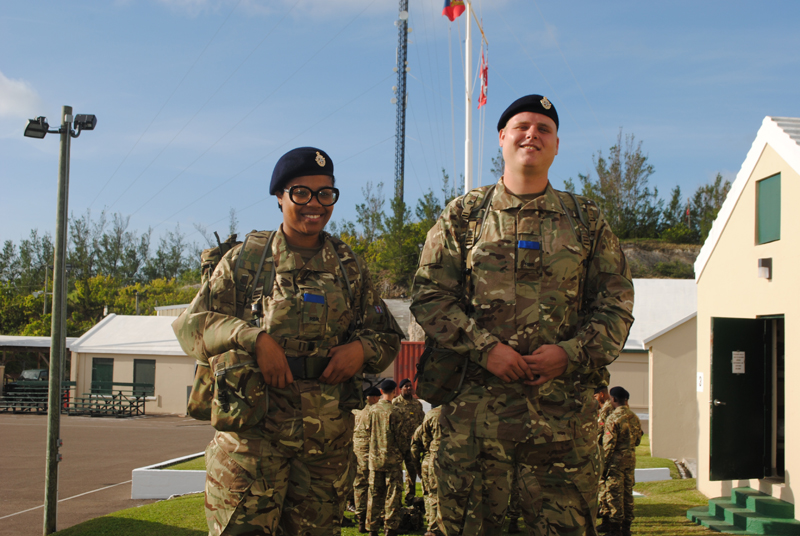 "The soldiers here want to be here and they volunteered, so that's a great asset. We will push them to their limits and some of them will be able to volunteer for extra training for America's Cup assistance on the water or on land. We will be supporting the police 100 per cent as we always do.
"If our new soldiers work hard, dig deep and take everything in, they will have their boot camp under their belt in no time. Right now, they don't know each other, but they will gel together and they will become friends."
He added: "Some of them will be potential leaders and the opportunities are there for them."
The recruits also had a surprise visitor as they waited outside Warwick Camp – Senator Jeff Baron, the Minister for National Security, who is due to pay an official visit tomorrow [MON] with Premier Michael Dunkley.
Minister Baron said: "The volunteers who have chosen to serve Bermuda deserve the Minister's support from day one and I wanted to be here to show them that. I wanted to look them in the eye, feel their nervous energy and tell them I support them.
"They all marched and ran in here because they want to be here and that's commendable. To have an annual camp made up entirely of volunteers for the second year in a row is a marvellous achievement for the Colonel, the Government and the country."
11-minute live video Periscope replay of the Camp getting underway this morning:

Regiment Recruit Camp https://t.co/XrZu17YGVv

— Bernews (@bernewsdotcom) January 15, 2017
Minister Baron added: "Service in the Royal Bermuda Regiment offers those seeking an opportunity to serve their community and gain valuable skills and training. I know the team worked hard at marketing and promoting the merits of volunteer service in the Regiment.
"I am pleased with the number of new recruits that have volunteered themselves to serve our country and look forward to supporting each of them throughout their career in the Royal Bermuda Regiment."
Video: Meet some of the participants:

Read More About