The Human Rights Commission is "disappointed that the proposed legislation has been introduced after the case law on same sex marriage has been settled in Bermuda," which "means that the proposed legislation is a de facto removal of rights from same sex couples by relegating their unions to a separate category which may not be recognized abroad."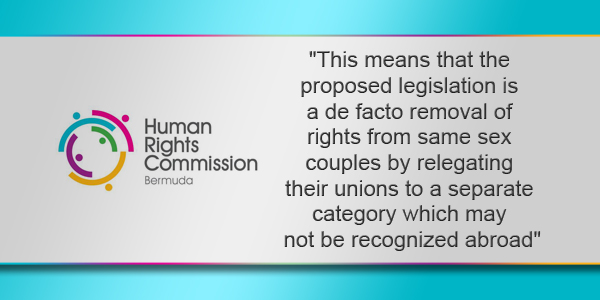 Government Proposes Domestic Partnerships Bill
Earlier this month the Government began consultation on the draft Domestic Partnerships Bill, which the Government said will "essentially replace same-sex marriage with a domestic partnership arrangement which can be entered into by both same-sex and heterosexual couples."
Speaking at a Town Hall the Government held earlier this month, Home Affairs Minister Walton Brown said, "Why is this being done? It is being done for one very simple reason. The status quo, which allows for same-sex marriage, is embraced by one segment of the community; it is not embraced by another.
"We have a set of circumstances in which, one member representing a majority of Members in Parliament, is intent or has been intent, on proposing a Private Members Bill which would outlaw same sex marriage.
"Not a Party Bill, not a Government Bill; a Private Member's Bill. If that Bill is tabled, or would be tabled, it will command the support of a majority of Members of Parliament, because a majority of Members of Parliament do not support same sex marriage.
"If that Bill was to pass, same sex couples would have no legal protections whatsoever; that is the political reality. And so, despite what anyone may feel about what is the appropriate thing to do – and we could have a very intense debate about that – that is the political reality.
"What this Government is doing is ensuring that same sex couples do in fact have a wealth of legal benefits, because of what would happen if we do nothing," the Minister said.
90-minute live video replay of the Govt's Town Hall held earlier this month
Human Rights Commission Comment
A Human Rights Commission spokesperson said, "The Human Rights Commission has held a longstanding view that, at a minimum, Bermuda should have a form of legal recognition of same sex couples functionally equivalent to marriage for those who wish to commit to each other in this way.
"Our view is informed by the European Convention on Human Rights which have ruled that same sex couples have a right to have legally recognized partnerships which provide the same rights and privileges obtaining to traditional marriages.
"We feel the proposed Domestic Partnership Act makes a sincere effort to create a legal category which is functionally equivalent to marriage and we understand but are unhappy with the political reality in Bermuda where such a proposal is necessary to avoid rights being stripped away completely by legislation such as the Human Rights Amendment Act proposed by Junior Minister of Finance, Mr. Wayne Furbert.
"We also feel strongly that controversial issues should be given a consultation period longer than the current two weeks to allow for a comprehensive analysis and feedback from the public and other stakeholders. Public debate on such issues should be held at neutral venues such as schools or government buildings and not religious venues where people may feel [or be] intimidated by the setting or attendees.
"However, the Commission is disappointed that the proposed legislation has been introduced after the case law on same sex marriage has been settled in Bermuda per the Godwin and Deroche Supreme Court case and that, presently, same sex marriage is legal in Bermuda.
"This means that the proposed legislation is a de facto removal of rights from same sex couples by relegating their unions to a separate category which may not be recognized abroad. This is particularly important given the extent to which Bermudians travel abroad for vacation and for medical reasons. Moreover, a key part of our tourism product as a wedding destination would be undermined by the proposed change.
"The Commission recognizes that many in our community are strongly against the idea of same sex marriage or will not endorse a same sex marriage because of their religious beliefs and that still others are deeply uncomfortable with the thought of such unions as incompatible with their moral beliefs.
"We also recognize that there are sectors of our religious community that are supportive of same sex marriage and the public debate has been caricatured to ignore this fact. Everyone has a right to hold beliefs opposing same sex marriage so long as they do not incite harm or promote hate through their speech or actions.
"However, individuals have a right to be treated equally and be protected from discrimination regardless of how unpopular such rights are and how small the number of people who hold those rights may be.
"The Domestic Partnership Act offers the ability for same sex couples and heterosexual couples to form a legal partnership which would afford them most of the rights afforded to traditional marriages. The ways in which it differs from the rights of traditional marriage are significant: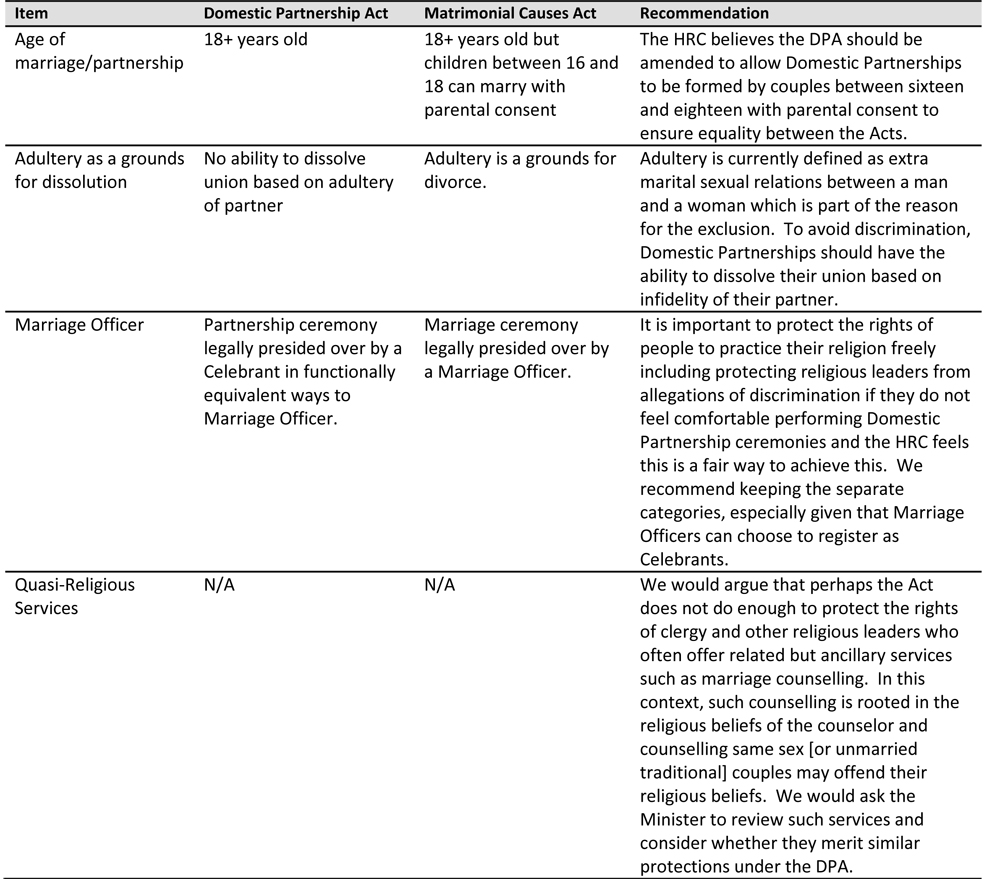 "There are other less material issues which we have raised to the Minister's attention and a full list can be obtained by contacting the Human Rights Commission.
"We applaud Minister Brown's intentions and genuine effort to provide protection for and recognition of same sex unions but are dismayed by the fact that he feels motivated to do so under perceived threat by other members of the House who wish to remove already established rights obtaining to those couples.
"The world is watching. If we are truly to embrace the progressive mantle, we must protect everyone from discrimination and inequality."

Read More About