Stacee Smith, writing in the UK's Guardian, has featured the late Johnny Barnes in a piece titled "The joy initiative: people who inspire others to live happier lives," highlighting his effort to spread good cheer on the island.
The story said, "Before his death on 9 July 2016 at the age of 93, Bermuda's Johnny Barnes – who featured in Mr Happy Man, a documentary by Matt Morris – spent about 40 years greeting and waving the early morning commuters heading into Hamilton – the island's capital and only city – from the Crow Lane roundabout, with his signature "I love you, I love you!", a smile, and strings of blown kisses.
"As a Bermudian, I have many cherished memories of travelling to school in the car with my parents and waving at him from the back seat, or riding my motor scooter into work, tooting and saying "good morning Johnny Barnes!" as I passed him by. Locals and tourists alike would flock to the roundabout for photographs and prayers with him. The secret to his happiness, he once said, was his relationship with God, and reading the Bible."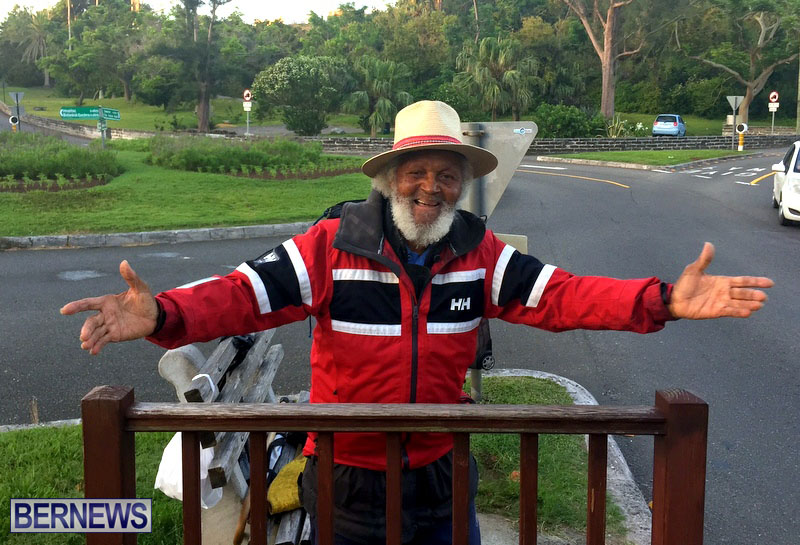 "Barnes would often leave home around 4am each weekday to walk a mile to the roundabout and wave for five or six hours straight. "Often times when he was not feeling well I would take him down to the roundabout" said his 88 year old widow Belvina Barnes [the couple were married for 65 years].
"As he became frail, adjustments were needed, so a railing was erected on the roundabout, and later a bench followed. Nonetheless, he was committed to his early morning duty and would be there come rain or shine. "He demonstrated what true service is all about", said a close friend of Barnes, Russ Ford. "Giving of yourself and not expecting anything in return."
"Barnes was often referred to as the ambassador for the city. In 1991, he received the Queen's Certificate in recognition of his valuable service to Bermuda, and a statue [unveiled in 1998] by British sculptor Desmond Fountain, stands near the spot where he waved."
Click here to read the full article on the Guardian website.
Read More About