Five local vendors returned to the Island last week after showing off their Bermuda inspired products and building international connections in New York City, through a partnership between Bermuda Economic Development Corporation [BEDC] and Driven Society.
Entrepreneurs Kayuntae Ming [His N Hers Hair & Beauty]; Nina Froncioni [Limestone + Cedar]; Channing Dill [Native by ChanningElizabeth]; Kelsea Williams [NovelTea] and Jayde Gibbons [Queendom Heights] were the winners of BEDC's inaugural Vend 2 Win competition, securing a spot in an eclectic millennial inspired market, known as The Reserve, and receiving free airfare and hotel accommodation, thanks to sponsorship from the BEDC.
The Reserve market, hosted by The Driven Society, took place in Brooklyn, New York on Sunday, July 1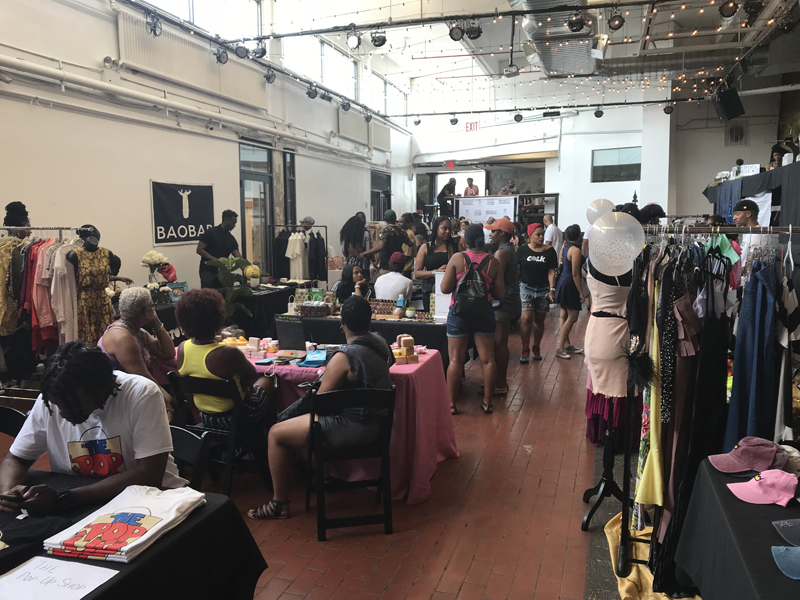 They travelled with the Corporation's team members [Ondreyah Rochester, Jamillah Lodge and Raymond Lambert] from Saturday, June 30 to Monday, July 2, visiting two other vendor markets in the Big Apple, including Brooklyn Flea Market at Industry City, known for selling vintage and antique themed goods, and Hester Street Fair, a diverse market, located on the city's Lower East Side.
Local vendor Kayuntae Ming, of His and Hers Hair & Beauty, a line of natural hair and skin products, said the experience provided her with many lessons for the future.
Unfortunately, some of her products didn't make it past customs clearance upon their arrival to New York, which she admits was "extremely disappointing"; however, she was able to make the best of the remainder of the trip and learnt a lot.
Jayde Gibbons of Queendom Inc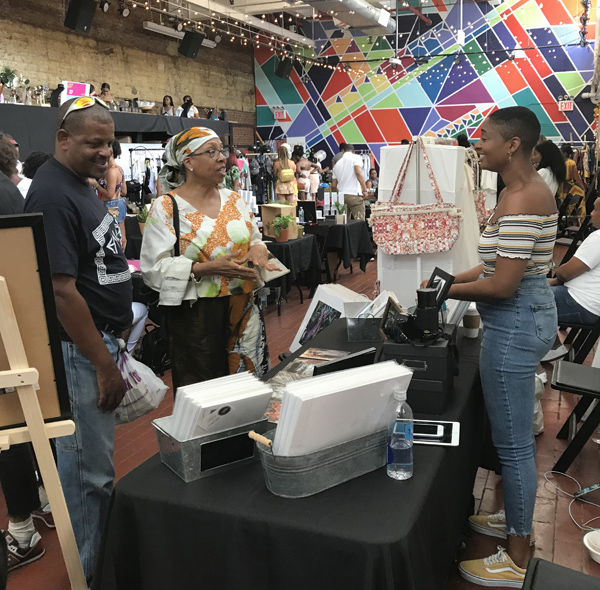 "Overall, it was a great experience," she said. "I enjoyed going to visit some of the markets on our first day of being out there. The Hester Street market was my favorite; there were so many friendly vendors that gave me so much inspiration and advice.
"I was told that my bubbly personality was perfect for being a salesperson, which was a confidence booster. On the day of The Reserve market on Sunday [July 1], I was very excited to meet other New York vendors and see what they had to offer. My table attracted many customers who all gave me very positive feedback on my customer service skills, as well as on my products.
Kelsea Williams of NovelTea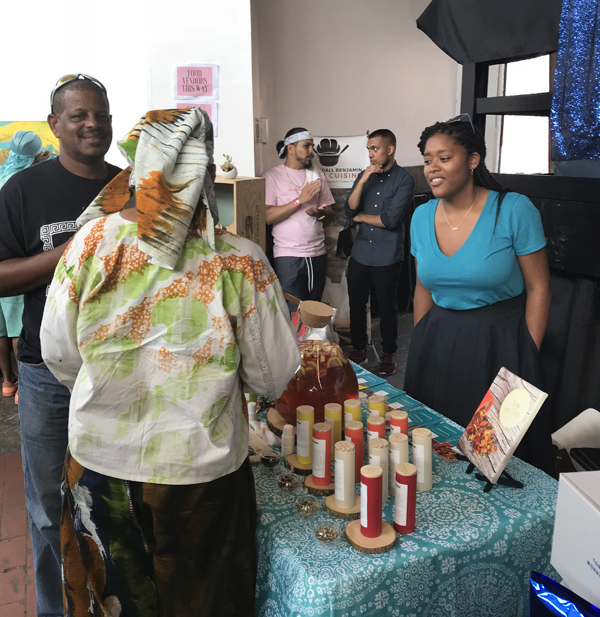 "One customer in particular stood out to me. He was a food vendor and was extremely impressed with my products. He told me 'I don't even know you, but I know you're going to do big, and amazing things! I'm proud of you, especially being so young and so passionate about what you do.' He said it was also very refreshing to know that young people were becoming more aware of things that they were putting on their bodies because there are so many toxins that affect people daily."
She said the encounter left her feeling very inspired, thankful and humbled.
Kayuntae Ming of His N Hers Hair & Beauty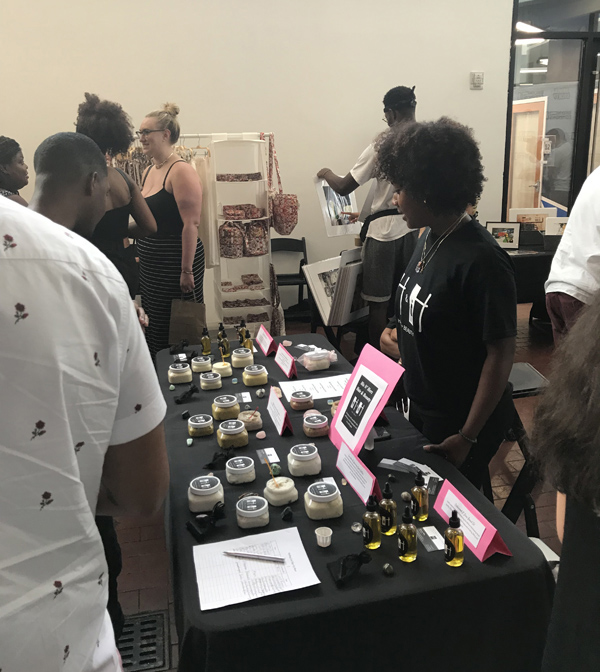 According to Ondreyah Rochester, the Junior Micro, Small and Medium Enterprise [MSME] Officer, it was rewarding to showcase a handful of Bermuda's talented vendors outside of our 21-square-mile island.
"I am overall encouraged by the passion and dedication displayed by our vendors," Miss Rochester said. "Many of the participants looked at this as a learning exercise, and despite a few curve balls, they all did an excellent job and represented Bermuda well on the international stage."
Nina Froncioni of Limestone+Cedar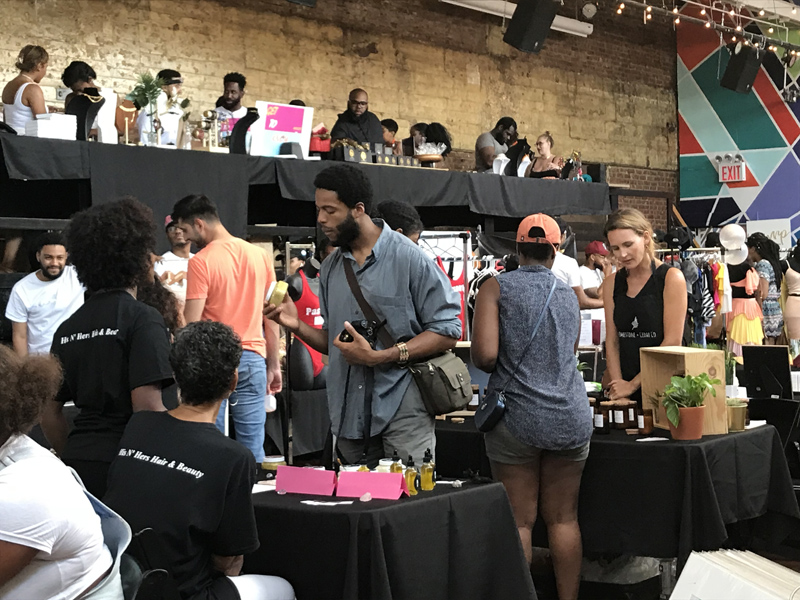 Jamillah Lodge, Acting MSME Officer, said: "Feedback overall was that the trip was a good experience. It created an opportunity to network with other vendors and to potentially develop partnerships. I came back to the Island with even greater resolve to help local vendors shine overseas and get over some of the bureaucracy that can be attached with trying to expand into international markets. We must continue to work towards removing the barriers that can prevent some vendors from taking advantage of opportunities that may exist outside of Bermuda."
For more information on the BEDC and other upcoming vendor opportunities, visit www.bedc.bm.
Read More About