The new winter bus schedule will take effect on January 7th, 2019, with the new schedule designed to "temporarily reduce the number of buses required on a daily basis to a level that is sustainable, and in doing so deliver a reliable public bus service."
It has been "developed with due consideration for public demand and fleet capacity" and will "eliminate daily cancellations related to a shortage of buses."
The new schedule will be "implemented for an initial period of one year, while advancing several key initiatives designed to improve the condition of the fleet."
This was announced at a press conference today, and officials said that the new schedule will be published in the coming weeks, highlighting changes to the bus service frequency and departure times.
Calvin Burgess [Bermuda Industrial Union Bus Operators/ Allied Workers, President], Roger Todd [Department of Public Transportation, Director], Zane DeSilva [Minister of Tourism and Transport], Chris Furbert [Bermuda Industrial Union, President], George Scott [Bermuda Industrial Union, Chief Union Organizer], Jonelle Christopher [Department of Public Transportation, Assistant Director of Operations]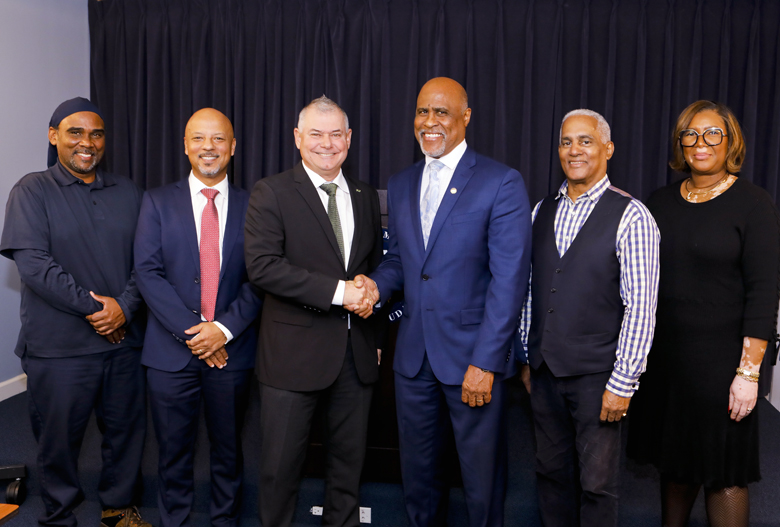 Director of Department of Public Transportation Roger Todd's remarks:
Good morning everyone,

It is with great pleasure that I am here today to speak on the implementation of the new winter bus schedule, to take effect on Monday, January 7th, 2019.

Firstly I would like to echo Minister DeSilva's comments and extend my appreciation to DPT management, staff and the Bermuda Industrial Union for their collaboration in arriving at a balanced schedule that works for all parties.

The new schedule is designed to temporarily reduce the number of buses required on a daily basis to a level that is sustainable, and in doing so deliver a reliable public bus service. The new schedule has been developed with due consideration for public demand and fleet capacity.

For the traveling public, the new schedule will eliminate daily cancellations related to a shortage of buses,

For the DPT Operations team it will provide a more predictable and workable schedule, and

For the Maintenance team it will provide better access to vehicles for repairs and preventative maintenance.

The new schedule will be implemented for an initial period of one year, while advancing several key initiatives designed to improve the condition of the fleet. Performance of the new schedule will be assessed and adjustments made as required. Some of these initiatives include,

Enhanced fleet management program and resources

Out of service bus repairs

2009 series bus refurbishment project

2019 new bus deliveries and multi-year fleet replenishment program

The implementation process has begun, which includes Bus Operators picking their new work assignments, revised dispatch instructions and communicating the scheduling changes to the public. The new schedule will be published in the coming weeks, highlighting changes to the bus service frequency and departure times.

In closing, I would like to thank the public for their continued support and patience throughout this process. The Department of Public Transportation remains committed to delivering a quality public bus service. I look forward to providing updates on this and other projects in the coming months.
Minister Zane DeSilva's remarks:
Good morning everyone,

We are here today to announce the Department of Public Transportation's new bus schedule and recognize the collaborative efforts of the DPT and the Bermuda Industrial Union which have resulted in this long awaited achievement in Bermuda public transportation.

Before proceeding any further, I must first recognize the efforts of my colleague and previous Minister responsible for transport, Minister Roban.

Minister Roban could not make it to this press conference, however it must be said, that his efforts were instrumental in bringing this new schedule to fruition, and I am very thankful for his contribution.

I would also like to thank Department of Public Transportation Director, Mr. Roger Todd, and the President of the Bermuda Industrial Union, Mr. Chris Furbert, for their efforts in forging a useful working relationship as DPT management and staff crafted a new bus schedule.

I am encouraged by all the work done and thank everyone for their diligence in maintaining a collaborative approach that valued continued and open communication to devise a solution that benefits bus operators, the Bermuda public and, most importantly, can be sustained with our current fleet of buses. I am confident this is the best way to ensure an efficient and reliable bus service.

I know that this achievement was no easy task as change is always difficult. And so again, I extend my most sincere thanks to all of DPT and the BIU, and look forward to the new bus schedule which will be implemented on January, 7 2019.
The 'Features of the New Winter 2018 Bus Schedule' follows below [PDF here]:

Read More About