[Written by Mikaela Ian Pearman]
The ultimate day party for Bermuda Carnival is back this year and promises to be a must-attend event.
Glow Bermuda, an all-white, all-inclusive day fete will be held at Queen Elizabeth Park on Sunday, June 16. This year's event features Patrick The Hype Man and Famaalay.
The event starts at 4pm and features an open bar and food. Guest are required to wear all white in order to enter the party.
And in a big change this year, Glow will be green this year.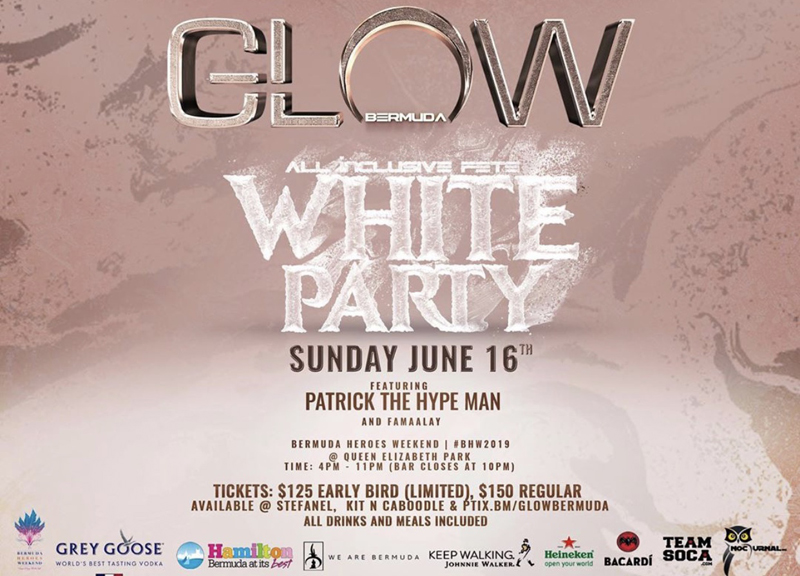 Found and organizer Marilyn Eve says: "We've collaborated with Waste Management and they are going to provide us with recyclable Bins.
"All patrons at Glow this year can expect at least 80 percent biodegradable dining experience with plates, forks, knives and spoons, paper cups for corn soup.
"Glow is making a proactive and conscious effort to use biodegradable products to be more environmentally responsible."
She continued: "Our decision this year will eliminate thousands of disposable products that would lead to significant quantities of waste being generated during the revelry weekend that would eventually end up in our oceans and landfill.
"We hope the efforts of our patrons will raise environmental awareness."
Mrs. Eve said in addition to Glow going green this year, patron can expect to enjoy a fete with good people, great food and awesome vibes.
Tickets for Glow Bermuda are $150 and available on www.ptix.bm. Cabanas are completely sold out.
Glow is from 4pm to 11pm, with the bar closing at 10pm.

Read More About
Category: All, Entertainment, Environment