'Live Muay Thai' – billed as Bermuda's first full Muay Thai rules promotion – will be held tomorrow [July 6] at 3.00pm at the Berkeley Institute gymnasium.
A spokesperson said, "On Saturday, July 6th Bermuda will finally see the emergence of a martial art that's been slowly simmering beneath the surface for over a decade – Muay Thai.
"An exhilarating sport to watch, combining beautiful tradition with breath-taking action, Muay Thai is the most exciting stand-up striking system in the world. 'Live Muay Thai' is Bermuda's first full Muay Thai rules showcase for local fighters to headline, for the first time in Bermudian history!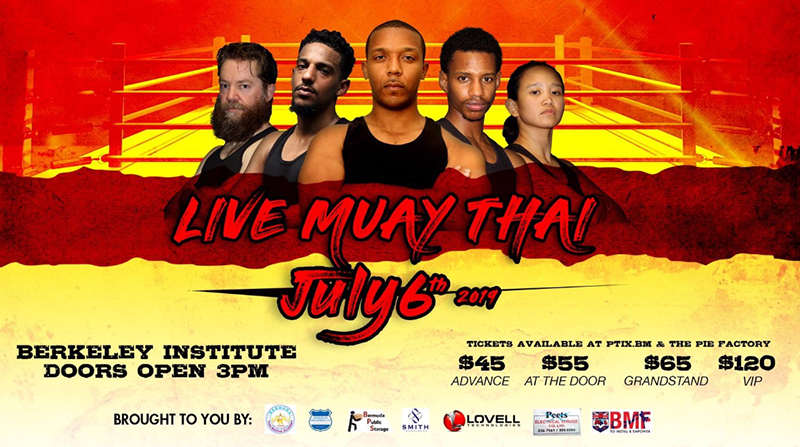 "A community, family-friendly event where all local martial artists are welcome to enjoy the festivities; local clubs get to show-off their most talented hard-working students.
"Due to the lack of a national sports governing body, there was no pathway of development or official Muay Thai rules to encourage the growth of fighters.
"The Bermuda Muay Thai Federation was established for this purpose in 2017, to create a pathway of development for its athletes; as well as promote and govern the sport of Muay Thai in Bermuda.
"The main event features Class-A Cruiserweight World Champion Deondre Morris versus hard-hitting American Christopher Jenkins of Tampa Muay Thai. Featuring on the undercard are the talented Bermuda Killer Bees – Kallin Simons, Answer Styannes Outerbridge, Micheal Walsh and Antwan Edwards, all with matchups hailing from Canada.
"Don't miss these international fights, get your tickets today – $45 advance, $55 at the door, $65 grandstand, and $120 VIPs."

Read More About