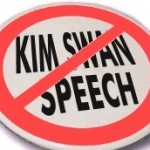 Opposition Leader Kim Swan called the 30 seconds he was left to speak in the House the "politics of distraction".
During the morning sitting of the House of Assembly yesterday, Premier Dr. Ewart Brown spoke in depth on the 2010/11 Budget, sitting down with only 30 seconds of debate time remaining.
Mr. Swan rose to speak but was quickly shut down by his UBP colleague Patricia Gordon-Pamplin, who explained he had run out of time.
An interesting factoid: The Guinness World Record for fastest speaker is 603.32 words in 54.2 seconds.
Kim Swan made the statement below using social media:
Today the Premier allowed the Opposition 30 seconds in a 2 hour debate on the Cabinet Office. It should concern everyone that we did not get a chance to scrutinize the spending on the Department that really increased its spending by 16% – not in sync with the mandate given to all other Government Departments.

This is the department that has over $1.167 million in consultants through the Professional Services but we were unable to get into any discussion on the subject. So much for Leadership by example – the politics of distraction is definitely at play!!!!!!
Mr. Swan isn't alone in his displeasure of aspects of the Budget debate in the House. The Premier is scheduled to attend the Inter-Sessional Meeting of the Caricom Heads of Government in Dominica this Friday.
During his trip, aspects of the budget pertaining to transport and tourism are scheduled to be debated. The two portfolios fall under Dr. Brown's ministries.
Dr. Brown has stated that the Opposition control the debate schedule, and would not make allowances for his CARICOM meeting, which had been scheduled months in advance.
Read More About