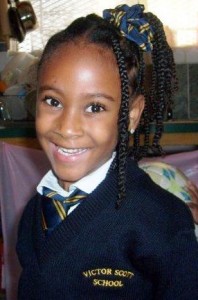 Seven year old Malaikah Abdul-Jabbar is about to make world history as the youngest presenter ever at the International Reading Association [IRA] annual conference in Chicago, a conference with an estimated attendance of 15,000.
The 7 year old is the author of the about-to-be released book "Stop the Shooting".
The conference will be held from April 25 – 28, and Malaikah will join other presenters including former US Vice President and Nobel Prize winner Al Gore, and Her Majesty Queen Rania Al-Abdullah of Jordan. Malaikah will be the youngest presenter in the 55 year history of the conference.
She was compelled to write the book after becoming upset over the shootings, especially the shooting death of a school mates father.
In a sad irony considering the content of her book, Malaikah is a student of Victor Scott school, which was the scene of the recent Good Friday murder of Kimwandae Walker. Malaikah is living proof that Victor Scott continues to turn out excellent students, with some of the school's past alumni including such notables as Dr Lou Matthews, Dr Joseph Christopher, Dame Lois Brown-Evans, Dame Pamela Gordon and Premier Dr. Ewart|Brown. For another post highlighting the excellent efforts of two 10 year old Victor Scott students see here.
The book looks at the shootings that have plagued Bermuda recently through the insightful eyes of a child, with the opening line being "Please stop the shooting, it can spread everywhere". Not only did Malaikah author the book all by herself, she also did all the illustrations for the book.
The book is presently being printed, with the Book Launch is tentatively scheduled for April 20th at City Hall from 4-6pm. We will bring you confirmation and more information on the launch closer to the date.
Read More About