The Police have appealed for people to not ignore the barriers along South Road in Smith's parish west of John Smith's Bay to Watch Hill Park that have been placed there to protect the public as Hurricane Igor draws near. As Bernews previously reported, the road has been closed off due to severe wave activity and potential for damage. Many locals will recall the destruction Hurricane Fabian caused on that specific stretch of road in 2003.
The photo below was taken at approximately 9am this morning [Sept 18], and shows a massive wave getting ready crash over the exact section of road the Government has closed for safety's sake. [view the whole set here]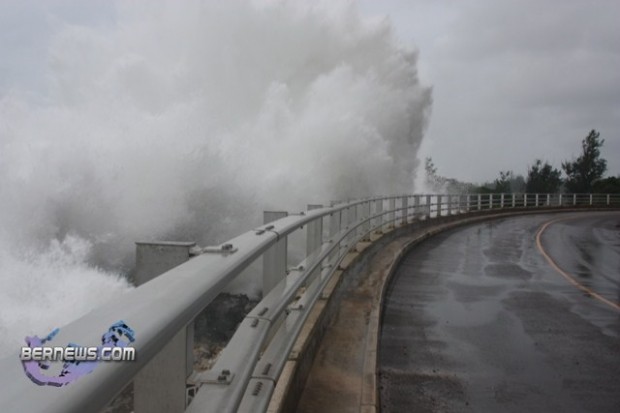 The Police say that they have received reports that members of the public are ignoring these barriers and walking along the shoreline in the area to observe the ocean. They are urging members of the public not to walk along the shoreline in that area and to heed the barriers, as they have been placed there for their safety.
The photo below shows W&E placing barriers on the road this morning: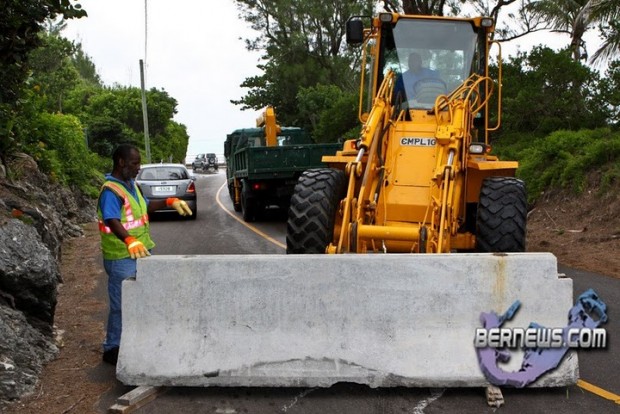 [Editors note: We would like to "break form" and add our voice to this. We went at 9am today to take photos, as we knew the road would be closed at 10am…and even then the water was powering over. Even to our layman eyes, some of the waves appeared extremely powerful, so we stood well back and zoomed in to catch the shots. We can only imagine how dangerous it will be tomorrow. Please, please do not walk past the barriers]
Read More About